Townmore creates 90 New Jobs as company rebrands
Townmore secures 2020 construction projects across Dublin, Cork and London worth an estimated €130 million as the company rebrands.
Newly-appointed managing director, James Godley, heralded the start of a new era for Townmore as he officially launched the construction firm's rebrand before a large gathering of industry professionals.
Godley's move to Townmore, following three decades in senior management roles for tier 1 contractors on large scale projects (€100m+) is a strong signal of Townmore's ambition for the company.
Speaking about the move, Godley said "It is a fantastic challenge for me to be at the helm of a dynamic organisation with a very bright future. My role now is to build out processes that I have used extensively over the last few decades to provide a lean construction group that will enable growth at scale for the future".
Townmore has grown from a small enterprise over a decade ago, to having a group turnover of €65 million in 2019, with a staff of more than 100 direct employees. A robust pipeline of work for 2020, worth an estimated €130 million puts the company on track to generate 90 new jobs in Ireland.
The company has recently appointed a senior Health, Safety, Environmental and Quality (HSEQ) Manager to ensure excellence in all aspects of health and safety across direct staff and also across the entire supply chain.
Technology is transforming modern construction and the team at Townmore are leading the charge. The use of BIM, or building information modelling, became mandatory on all Townmore projects from Q3 2019. This required heavy investment in hardware, software and training for all staff and subcontractors on site.
Speaking about changes within the company, Godley points out that "Townmore is about the people that run our sites and administer the works we do. Our team is the largest and most important asset we have, the successful growth of our company has been driven by our people. Obviously, with growth comes opportunities which our people are taking in their stride to improve the company and themselves. Over the past decade, Townmore has earned a reputation across the industry for being a great place to work and this is critical to us. We have invested heavily in our people by selected training initiatives to upskill our dedicated staff, graduate programmes for the future of the company and to combat the current skills shortage and inhouse training to share the extensive expertise available within the company".
Townmore construction firm was established in 2008 and currently employs more than 100 direct employees (set to increase in 2020). Group turnover for 2018 was €55 million and, following a successful year-to-date, turnover in 2019 is on target to exceed €68 million in Ireland. Headquartered in County Offaly, Townmore opened new offices in Mallow, County Cork and London in 2019 and is currently building a new office in Dublin.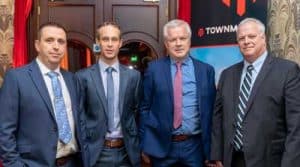 Key design and build projects for 2020:
440 apartments in Donaghmede (€90 million scheme)

Extension to the historic Wynn's Hotel on Lower Abbey Street, Dublin

Rapid build hotel project on MacCurtain Street, Cork.

Apartment scheme in North London (partnered with Thornsett Group)

Delivery of €10m worth of projects across our Controlled Environments Division, servicing the MedTech & BioTech sectors.