Climate Action Plan's Retrofitting Targets
Housing retrofit is a major part of the Government's Climate Action Plan with 
the objective to retrofit 500,000 homes. Rory Clarke, General Manager of 
House2Home Retrofit Ltd talks to Irish building magazine about the Plan's targets.
On 24 July, the Minister for Communications, Climate Action and Environment, Richard Bruton T.D. welcomed the publication of the Climate Action Plan and spoke of what its implementation could offer. "We will be living more connected, healthier lives. Our air will be cleaner. Our homes will be warmer. We will look back at the disposable culture we have now with disbelief. We will have enterprises able to compete and create jobs in a very changed world.
"The time for rhetoric is over. Sustained, consistent action across every sector, driven from the highest level of government is the only way we will meet this challenge. It will define us as a generation." Irish building magazine talks to Rory Clarke about the retrofit element of the Climate Action Plan.
Retrofit Expertise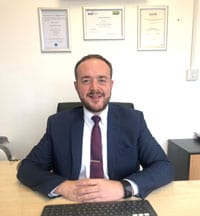 Talking to Irish building magazine, Rory tells us he believes Ireland has the capabilities to deliver on the housing retrofit targets of the Climate Action Plan as contractors respond positively to demand when there is confidence. "Recent pilot programmes have shown that industry is ready for large scale, long term deep retrofit projects. Industry will, as always, upskill and expand once sustainable demand is evident. For example, as an SME, we are prepared to invest in our company to double output within 12 months; however, we will not commit to this expansion until we have confidence in the market."
The company is a medium-sized construction company that specialises in energy efficient retrofitting of existing properties. House2Home is based in Dublin 12 and serves Dublin and surrounding counties.
House2Home carry out all aspects of retrofit, from insulation to mechanical and electrical upgrades. The company was formed in 2013 by Mark Courtney to target the residential retrofit market. Rory tells us more about the company: "We currently employ 35 people.We have in-house engineers and employ trades both directly and on a sub-contract basis where required. We also have an energy services division, where we carry out small-scale energy upgrades such as attic insulation, solar panels (thermal & PV) and heating system upgrades.
"We are an Energy Partner with SEAI, which means we process grant payments, and discount the grant amount up-front to the customer. We are partnered with Energia as part of the Energy Efficiency Obligation Scheme, whereby energy saving credits are generated and traded during our projects. In turn, homeowners receive financial assistance from Energia for their projects."
As a retrofit expert Rory is positive about the Climate Action Plan. "It seems to have been well received and has planted the seed in the general public's mind that we all have a part to play in reducing and eliminating carbon emissions. As retrofit experts, we are particularly pleased with the emphasis on residential retrofitting contained within the Plan. We believe that by upgrading homes to low-energy usage buildings also puts the occupant in the right mindset to become promoters of energy efficiency."
Are the Plan's retrofit targets too ambitious? Rory says there are a number of factors to consider. "The ability to meet the targets set out in the Climate Action Plan will depend on the ability to a) maintain current momentum in the retrofit market by extending current grant and incentive schemes and pilot schemes and b) the timely introduction of enhanced schemes as set out in the Annex of Actions. The target set out in the Plan states that 500,000 dwellings must be retrofitted by 2030 and industry initially calculated that target to be 50,000 homes every year from 2020 to 2029 inclusive. However, Action 49 (contained within the Annex of Actions) states that a report on new delivery systems for retrofit which would be new grant schemes, finance models etc. will be published at the end of 2020. Therefore, we can assume that a new delivery system will be rolled out in 2021, increasing the number of homes to be retrofitted to 60,000 per year. When uptake is considered, it is likely that the bulk of homes to be retrofitted will be towards the second half of the decade. We have seen from recent pilot programmes that there is a huge demand for retrofit, and bringing homes to an A3 standard. Such programmes need to be extended, if for no other reason, for the promotion of deeper retrofit across the country.
"Another matter to consider would be shallow retrofitting during the same period. For example, if a homeowner is incentivised in 2020 to have an efficient gas boiler installed, will that same property have to have a heat pump installed in 2029? If so then the real number of retrofit projects is likely to increase well beyond 500,000."

Challenges
Rory believes aggregating retrofits in urban areas can be economically beneficial on state-run programmes if there are significant numbers of retrofits close together, but aggregation is difficult as great local demand and coordination is required, and in rural areas there is no significant advantage. "When we look at rural areas where we have detached homes that are not generally close to each other, there is little benefit of aggregation. We only really benefit from aggregation when we approach urban projects and can benefit from economies of scale. However, these benefits are far out-weighed by the risk that all resources are allocated to 1 project that could be delayed by something as simple as 1 occupant not being able to vacate or accommodate works. It is also much more difficult to recruit customers when using geographical location as the principal driver. In effect, we would be asking an entire street to agree to spend €30,000 and have high levels of disruption in their home for several weeks. The likelihood is that not all homeowners would be happy to proceed to contract stage." Aggregation is not the only challenge.
There is currently a skills shortage across the board from BER assessors to carpenters, it has become increasingly difficult to attract new talent we are told and the Plan takes this into account. "Thankfully, the Climate Action Plan has taken this into consideration and the Department of Communications, Climate Action and Environment along with other key stakeholders are evaluating the current supply chain, including human, and will complete the assessment by the end of this year."
There are many techniques and skills needed to understand the best way to retrofit a building, and Rory says as an industry we have the knowledge base. "Thankfully, industry has upskilled and learned from retrofit projects over the past number of years to ensure that best practice is followed. There are several documents that outline the standards for retrofit such as NSAI's SR54: 2014 which outlines the standard for energy efficient retrofitting of dwellings."
Retrofit needs incentives. Unfortunately, the primary deep retrofit grant, SEAI's Deep Retrofit Pilot Programme, has now ended and there are no specific mainstream grants available he tells us. "We have seen that since cessation of the grant, homeowners are willing to sacrifice things like heat pumps and insulation and divert their budget to other items like kitchens and external works. The Deep Retrofit Pilot Programme was an excellent way to ensure a BER grade of A3 or better was achieved at the end of a project, with renewable energy integrated into every project." SEAI has other grants available in the form of the Better Energy Home Scheme. This programme provides fixed grant amounts for individual elements such as fabric upgrades, heating controls and solar thermal. Separately, SEAI has introduced a grant for Heat Pumps and Solar PV.
Once the delivery model is agreed and established, the next logical step is national awareness and the Irish Government has a role to play. "To achieve the ambitious targets, a multi-channel 10 year marketing campaign will possibly be the single most important role that central government will have. By promoting and showing confidence and support in retrofit, government will lead the charge in promoting awareness and public support for retrofit."
Potential
Can retrofit make up for a possible loss in construction output due to Brexit? Rory says that the influence of Brexit is unknown, but the retrofit sector has the potential but will need support. "We have yet to learn of the challenges that Brexit will bring; however, it is likely to have an impact on construction. It is estimated that the total market value of retrofit is over €35bn between now and 2050. I believe that retrofit can offset any market decline caused by Brexit; however, it will depend on timely actions to promote and support retrofit. With an annual market value of over €1.1bn every year from now until 2050, retrofit will be attractive to investors too."
The Construction Industry Federation will be seeking an informal advisory group with industry, the SEAI and the Department of Communications, Climate Action & Environment with a view to implementation.
Follow Irish building magazine on Twitter, LinkedIn and Instagram for industry news and views.