€220m Quads on track for the arrival of 10,000 TU Dublin students in September 2020
Minister for Education and Skills, Joe McHugh T.D. and Minister for Finance and Public Reform, Paschal Donohoe T.D. visited Technological University Dublin (TU Dublin) on Wednesday for the topping-out ceremony of the Central Quad on the TU Dublin flagship campus at Grangegorman. From September 2020, there will be more than 10,000 students and 600 staff on campus.
Speaking at the ceremony, the President of TU Dublin, Professor David FitzPatrick said, "This wonderful Central Quad – built around the courtyard where we are standing, and next to this now-famous copper beech tree – is a €100 million investment in the education of our current students and those who will follow them. Together with the East Quad just opposite us, it represents an investment of over €250 million in what will be an exceptional campus for TU Dublin, here in the middle of Dublin City, and the largest single education project under Project Ireland 2040."

The buildings, which span 52,000m2 of development, are being delivered via Public Private Partnership. This will provide academic facilities for ten schools from the College of Sciences & Health, the College of Engineering & Built Environment and the College of Arts and & Tourism from TU Dublin.
Speaking at the topping out ceremony on behalf of the main contractor delivering the project Sisk/FCC, Donal McCarthy, Managing Director Ireland East, John Sisk & Son said: "I am delighted to be here today on behalf of the Sisk / FCC Joint venture leading the construction of the great new facilities at the East and Central Quads, as we hit this key milestone and formally top out the Central Quad. I want to recognise and thank our supply chain partners who are delivering top quality work across all aspects of this build.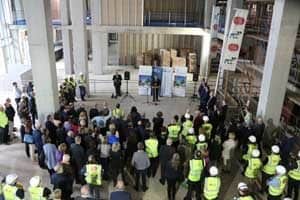 "We are working in collaboration with all the stakeholders to address the challenges that a project of this scale brings and I am confident that we will deliver the buildings in time for the start of the 2020 academic year.
"I would like to thank MacQuarie Group, the Grangegorman Development Authority, TU Dublin, our design team partners and the National Development Finance Agency for their positive engagement and support with this important project.
"I would also like to thank our own Sisk / FCC people working here who are fully committed to this project and who are building not only great facilities for the students and staff here, but also long lasting relationships."
Commenting on the opportunities that the campus will create, Professor FitzPatrick said, "To deliver on our mission and to do full justice to the ambitions of our students, it is vital to have facilities that support their learning.  Students who will study here from next September will benefit from working in laboratories, kitchens and lecture spaces with up-to-the-minute facilities and technology.  They will gain expertise that will ensure they can make a valuable contribution in key areas of the economy – in food science and innovation, pharmaceutical and nutraceuticals, health and environment, tourism and hospitality."
"Colleagues from a wide range of disciplines will also come together, in the Central Quad and the neighbouring East Quad, for the first time on one campus.  They will have opportunities to create new synergies between disciplines and exciting new opportunities for research.  They will interact with the researchers, innovators and entrepreneurs based right beside us in the Greenway Hub; and their students will have the role models, the facilities, and the encouragement to pursue their own research or perhaps to develop their own spin-out companies."
Concluding Professor FitzPatrick said, "As President, and on behalf of TU Dublin, I am immensely proud to oversee our move from Kevin Street, Cathal Brugha Street and Rathmines, which have been familiar Dublin landmarks over the last one hundred years.  Now we are preparing for the transition to what will be our flagship campus for the next one hundred years."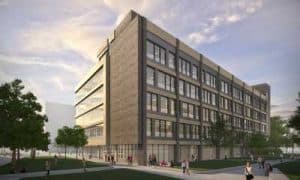 Positioned at the heart of the new campus development, the Central Quad will provide excellent facilities for students on programmes in the sciences and health, electrical and electronic engineering, culinary arts and hospitality. Students and staff will re-locate from Kevin Street, Cathal Brugha Street and Sackville Place by the end of this academic year. Meanwhile, the East Quad in Grangegorman is being prepared for the arrival next year of students of music, drama, media, law, social science and the creative arts. Facilities will include studios and exhibition areas, a 400-seater concert hall, recital rooms, black box theatre, and film and broadcasting amenities.