Minister for Housing visits next generation of sustainable social housing in Kerry
Clúid Housing, in partnership with Kerry County Council, Rebuilding Ireland and Kerry-based
Thermohouse Limited, an Irish low energy building system manufacturer and installer, welcomed Minister for Housing Eoghan Murphy to one of Ireland's largest sustainable social housing developments.
Announcing the commencement of the second stage of construction at the site, Thermohouse is delivering turnkey, rapid-build, energy efficient houses at the Sruthán na Sailí development in Derreen, Killarney. Due for completion in early 2020, this is one of Clúid's largest new build developments currently under construction.
The Derreen development, which commenced in January 2019, consists of 61 two and three-bed dwellings, built using Thermohouse's unique low energy building system. As well as being up to 60% faster than traditional construction, the houses have superior levels of airtightness, considerably reducing their heating costs. These houses are 'nearly Zero-Energy Building' (nZEB) compliant as mandated by the EU energy directive for new builds completed after 31 December 2020.
James O'Halloran, New Business Manager of Clúid commented: "We are delighted to welcome Minister Murphy to the development here inKillarney, as it enters the second stage of construction. An innovative social housing project  in Ireland, it not only addresses the need for rapid-build homes but also creates greener, more energy efficient buildings, with lower fuel bills. Partnering with Kerry County Council, Rebuilding Ireland and Thermohouse, who deliver residential projects across Ireland and the UK, has allowed us to meet our goal of providing high quality housing for those who need it, here in Kerry."
Michael Cronin, Founder and managing Director, of Thermohouse Ltd said: "We were delighted to partner with Kerry County Council, Clúid Housing and Rebuilding Ireland on what is one of Clúid's largest new build developments currently under construction. The Sruthán na Sailí development showcases the low energy building system that we have developed from concept to manufacture and installation."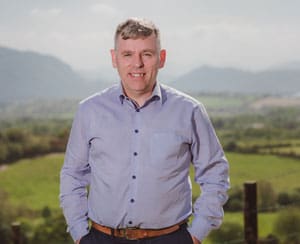 "While our industry has sometimes been reluctant to pioneer newer methods of construction, the sector has undergone huge changes in recent years. This is encouraging, as we need realistic innovative solutions, not only to address the housing crisis but also the latest in requirements around sustainability. High-quality rapid building systems such as Thermohouse's are one way to achieve this, and show how the built environment sector can lead the charge against climate change. For example, an EU energy directive requires all new builds completed after 31 December 2020 to be nearly Zero-Energy Building (nZEB) compliant. Our interlocking walls, floors and roofs system, meet, and often exceed, nZEB requirements. The system is also up to 60% faster to construct than traditional construction with a minimum design life of 60 years."