Big Build: High Speed 2 Procurement & Contracts
High Speed 2 will change transport in Britain. With a £55.7bn budget and a major scope of works for the years ahead to its operation in 2026 and beyond, there are opportunities for Irish companies on this major infrastructure project. For our 'Big Build' series Irish building magazine speaks to Robin Lapish, Supply Chain Manager at HS2 Ltd about the contracts awarded, what the client wants and the opportunities ahead.
HS2 is a high-speed railway which will bring the British railway system into the 21st century. HS2 with 345 miles of new high-speed track will connect the city centres of London, Birmingham, Manchester, and Leeds. It will connect 25 stations and nearly 30 million people; nearly half the British population. This will be the "backbone" of the British rail network. Traveling at a top speed of 225 mph, making it easier to get to work and to travel for leisure, HS2 will support the regeneration of the towns and cities served, having a positive effect on regional economies.
Government funded, High Speed Two (HS2) Limited is the company responsible for developing and delivering the high-speed rail network. Irish building magazine speaks with Robin Lapish, Supply Chain Manager at HS2 Ltd to find out about the procurement on this major project and the opportunities that are coming in the years ahead.
HS2 is currently on the ground. Robin has been working on the project since 2014. He works in the Procurement & Supply Chain Department. HS2 Ltd is the client and project manager, in order to develop the infrastructure it needs the help of a large supply chain of companies. HS2 Ltd seeks the most innovative and cost-effective solutions that the construction industry can offer in order to provide value for money to the taxpayer. The prime objective Robin says is to ensure HS2 becomes a "catalyst for growth", and to do that they require a partnership with the supply chain and want to work with the best. "As a public project funded by the taxpayer, HS2 must be procured in an open and transparent manner. For us to work with the best suppliers, we don't discriminate by geography; procurement is open to international companies. HS2 Ltd wants to work collaboratively to deliver the best possible end product – a railway that is the most dependable, accessible and people-focused in the world and one that can unlock the true potential of the regions served."
Major Procurement
So far HS2 Ltd has committed to invest over £8 billion into contracts and this is set to double by 2020. Speaking to Robin, he says that today (February 6) HS2 Ltd has announced their preferred construction partners for their London stations. Euston in central London and in the north-west, Old Oak Common – this will be a new super hub linking to Heathrow Airport and Crossrail. The Euston contract will be awarded to Mace and Dragados, while the Old Oak Common contract will be awarded to Balfour Beatty and Vinci. This is £2.3 billion in contracts between these two stations. Robin says the contractors will work in partnership with HS2's designers to coordinate the
delivery of the two stations. "The works will include delivering the structures, the platforms, the concourse; the links with other rail and tube stations. There are major spin-off benefits on HS2. Old Oak Common will kick-start huge regeneration in its north-west London area, potentially creating 65,000 jobs and 25,500 new homes."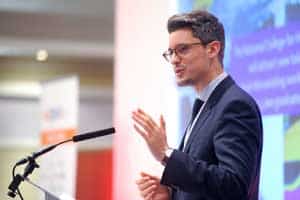 Robin says HS2 Ltd still has a number of contracts to procure for the railway systems. "These are the contracts that will turn what is a series of building projects into a railway: track, power, signalling, and telecom systems." HS2 Ltd has undertaken market engagement over the past 3 years to find the best approach to these contracts. "They are very technically demanding and involve a lot of new technologies. In addition, we still need to buy the construction of two brand new stations for Birmingham, one in the centre and one at the airport interchange. We're also well underway with procurement of our first train fleet what we call our 'rolling stock'. The trains will provide passengers with a new benchmark in comfort and reliability. We will push the boundaries."
For its civil engineering contracts, HS2 Ltd has used a two-stage Design & Build approach to construction to engage the expertise of contractors, Robin says. "We did this to get contractors on board early, because we realise the value a contractor can add to the design of a major project. This allows the exploration of different options before selecting the right solutions."
Robin tells us about the 4 joint venture organisations undertaking 7 packages of work, which are geographical packages, along the Phase 1 line from Birmingham to London. These are at the detailed design stage; with designers working with the contractors to develop the best approach before moving on to the construction phase. These packages include sections of open route as well as tunnelling. The main scope here is around the earthworks. "There is a huge earthworks programme to be done on HS2. Over 100 million tonnes of earth will be moved, alongside the construction of structures, tunnels, and viaducts. There are over 300 bridges to be built from Birmingham to London. This is high-density civil engineering with obstacles and challenges in the form of existing railways and roads to weave through."
The contracts awarded are outlined below, noticeably with some big names working on the project in joint ventures.
Main Works Civil Engineering Contracts
Below are the civil engineering services contracts along the Phase 1 route (London to Birmingham), including earthworks (embankments, cuttings and tunnels) and structures (bridges and viaducts). Seven contracts, potentially worth over £6bn in total, are divided geographically and are being delivered by four Joint Ventures. This includes options for Phase 2a from the West Midlands to Crewe.
SCS JV (Skanska Construction (UK) Limited, Costain Limited, STRABAG AG)
Area South 1 (S1) Euston Tunnels & Approaches
Area South 2 (S2) Northolt Tunnels
Align JV (Bouygues Travaux Publics, VolkerFitzpatrick Limited, Sir Robert McAlpine Limited)
Area Central 1 (C1) Colne Valley Viaduct and Chiltern Tunnels
EK JV (Eiffage Genie Civil, Kier Infrastructure and Overseas Limited)
Area Central 2 (C2) North Portal of Chiltern Tunnels to Brackley
Area Central 3 (C3) Brackley to South Portal of Long Itchington Wood Tunnel
BBV JV (Balfour Beatty Group Limited, VINCI Construction UK Limited, VINCI Construction Terrassement)
Area North 1 (N1) Long Itchington Wood Tunnel South Portal to Delta Junction and Birmingham Spur
Area North 2 (N2) Delta Junction to West Coast Main Line tie-in at Handsacre
Enabling Works Contracts
Below are the enabling works contracts along the Phase 1 route. They include demolition, ecological works, surveys, utilities, site clearance, archaeology and road and water course activities. Three contracts, worth £900m in total, are divided geographically and are being delivered by three Joint Ventures.
CS JV (Costain Limited, Skanska Construction UK Limited)
Area South – Euston to Northolt Tunnels North Portal
Fusion JV (Morgan Sindall Construction and Infrastructure Limited, BAM Nuttall Limited, Ferrovial Agroman (UK) Limited)
Area Central – Colne Valley Viaduct to Long Itchington Wood Tunnel South Portal
LM JV (Laing O'Rourke Construction Limited, J. Murphy & Sons Limited)
Area North – Long Itchington Wood Tunnel South Portal to Birmingham Curzon Street and West Coast Mainline tie-in
As we speak about London stations contracts announcement today, we hear HS2 Ltd is looking forward to working with their partners. This leads us to ask Robin about the client's requirements.
Client's Requirements
For HS2 Ltd it is not just about what is delivered but how it is delivered. Robin says this is what will define the success of HS2. "Regardless of where companies appear in our supply chain, all companies have a contribution to make to our project goals. HS2 has developed seven goals, these define how we go about engaging with the supply chain. There are clear metrics that measure our progress and will help define our success. HS2 Ltd has to provide economic benefits in developing the railway, deliver value for money, create an exemplary customer experience, and upskill the workforce in the process. It is hugely important that companies tendering for work take note of our goals as they are critical to how HS2 Ltd and its contractors procure and select companies and measure performance over the course of the delivery phase."
HS2 Ltd is designing High Speed 2 holistically for it to be maintained over the lifecycle of the infrastructure. Robin tells us that they require high standards with regards how the work is delivered. "Given the significance of HS2, we have a duty to raise the bar in how we go about undertaking a construction project, caring for the health, safety and wellbeing of our people throughout the supply chain, raising the bar in how workforce welfare issues are managed. Being a good neighbour is important to us and we care about the areas that our trains will travel through."
There will be a green corridor of habitats along the HS2 routes, and an emphasis on green construction. "We have contracts to plant around 7 million trees and shrubs. We are looking for a 50% reduction in carbon in the building of our civil engineering and stations." HS2 Ltd is pushing the supply chain to be efficient and environmentally friendly. It is not about price on this project, it is about value for money.
Robin's message to companies who want to work in HS2 Ltd's supply chain is to study and understand what it is they are trying to achieve. "We want companies to make a great effort in working with us to achieve our goals – to achieve an on time and on budget programme and to do so in a way which leaves a sustainable social, economic and environmental legacy. We want companies to come on HS2 and know that they are part of delivering a major milestone project and know that they are on a project that is raising the bar for not just delivery, but for customer service and customer experience. HS2 Ltd has a duty to do that."
HS2 Ltd is open to new innovations and ideas on how to undertake work and to get advice from the supply chain, this includes SME companies. Robin tells us BIM is central to delivering HS2. "It is about how we use the latest in digital technologies to explore how we design, build and then operate the railway in a virtual world. BIM lets us test our ideas before we start on site. It enables us to explore how we can deliver on site more effectively using offsite methods, seeing how components can be manufactured away from the location and then brought to site with just-in-time delivery." He says the supply chain has some learning and upskilling to undertake, and HS2 Ltd has a BIM upskilling tool for companies. "On our website we have the BIM requirements stating what we want from our supply chain. The majority of our supply chain will have some interaction with our BIM models." BIM capability is not the only HS2 innovation.
Lean is a not a contractual requirement but is embedded in offsite construction and BIM, Robin says. "Lean thinking is welcomed as a mindset. Innovation capability is key for us when assessing companies. We developed an innovation hub which captures new ways of undertaking work to give better outcomes. All supply chain companies have access to this and we have created a bank of innovations which we can evaluate, develop and apply if suitable. HS2 Ltd is open to learning from manufacturing and taking innovative approaches from other major projects." One example is the Thames Tideway and Crossrail projects where HS2 Ltd is looking at techniques and taking them forward. HS2 Ltd has examined manufacturing techniques and is eager to learn from this industry.
Maintenance Work
Once High Speed 2 opens in 2026, HS2 Ltd will be the infrastructure manager and the network operator. The maintenance contracts are yet to be determined but Robin says they are always planning ahead for the operation of HS2. "What we are doing now is working towards having infrastructure that can be maintained in the most efficient way possible, with minimum risk and disruption to passengers. We can make decisions now that will be beneficial in the long-run. Our train contracts will have a maintenance provision; some aspects of our rail systems may have a maintenance provision. There may be opportunities between now and 2026 and after we open for companies to tender for maintenance work."
HS2 Ltd has developed an infrastructure monitoring and measurement strategy. "The way we have designed and planned on this project has allowed us to capture a lot of data on the assets we will be maintaining. One of the problems on existing railways is that there is not enough quality data on the asset that is being maintained. As High Speed 2 is new build, we have the opportunity to collect data on what is being installed and then plan for future maintenance."
Opportunities for Irish companies
In 2016 HS2 Ltd hosted an event in Dublin in partnership with Enterprise Ireland; Robin speaks positively about the visit. "It was a massive success; we had 98 businesses and 140 delegates. HS2 Ltd went to provide information on what we were looking for on the project and spoke about our BIM requirements also."
Irish building magazine asks what interested companies can now do to track the progress and opportunities on HS2. "HS2 Ltd wants to hear from companies who have the skills the capabilities and the know-how. HS2 is a construction and engineering project but we are looking for companies from crane operators to caterers, product suppliers to archaeological firms.
"If you have interest in bidding for work, look at the HS2 Ltd supply chain website and see the opportunities and our requirements. If you are looking for contracts you can use the UK's 'Contracts Finder' website where all the direct opportunities are posted. There is also a site called 'CompeteFor' which is a shop window for indirect opportunities through our supply chain. All our supply chain partners are required to post on this site. Companies can register online for HS2 Ltd's quarterly bulletin which provides updates and information on the project. Please engage with us, send us your ideas, we have a special mailbox that we use to communicate with companies, scc@hs2.org.uk."
This is a project with a lot of opportunities for Irish companies. In this article readers have gotten insight into one of the world's major projects and the requirements of the client, a project less than an hour away by plane. With the advanced skills and innovation in the Irish construction industry, our companies can deliver at the top level and hopefully Irish building magazine will be covering Irish companies working on HS2 in future issues.
The content of this site is subject to copyright laws and may not be reproduced in any form without the prior consent of the publishers. The views expressed in articles do not necessarily represent those of the publishers. This article first appeared in Irish building magazine.