South Dublin County Council initiate €1 billion investment plan
South Dublin County Council today considered proposals that could deliver up to 4,500 new homes to the area. The total investment envisaged under the ambitious housing plan is in excess of €1 billion.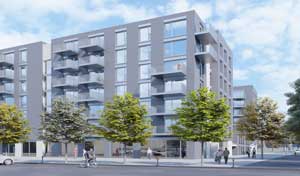 It is expected that over 70% of the 4,500 homes will be delivered as either social or affordable housing. The final breakdown of the five mixed tenure developments will be decided based on the final master plans approved for each site and on the government's affordable housing scheme.
The €1 billion investment is part of the Council's plans for building new homes in South Dublin over the coming years as part of its commitment to the government's overall Rebuilding Ireland programme. 
The lands discussed at Monday's Council meeting included:
2,600 new homes at the recently approved Clonburris SDZ scheme
1,000 new homes at Kilcarbery in Clondalkin
500 new homes in Killinarden, Tallaght
250 new homes in Rathcoole
(and a further) 150 new homes at Belgard Road, Tallaght
The schemes will be delivered in the coming years through a combination of traditional design and build and joint venture solutions.
In more SDCC housing news the Council approved the construction of 41 new social homes at St. Mark's Avenue, Clondalkin at the latest meeting.
The development will include nine bungalows that will be designated specifically for older person's housing.
The proposed social housing development will be built at undeveloped lands off St. Mark's Avenue, St. Mark's Grove, and Rowlagh Crescent, situated in St. Mark's Estate, Clondalkin, Dublin 22.
This followed an extensive public consultation period that saw the plans revised following feedback from the public and elected members with the Council praised at the meeting for the process.
The development is also expected to provide the opportunity to deliver further enhancement to the areas around issues such as security and turning the nearby open space into a more usable area for children and further residents of the area.