Burke Joinery | Joinery That Matters
Burke Joinery has evolved from a small family business into an industry leader. John T. Burke tells Irish building how it happened.
Since 1986, Burke Joinery has set the pace when it comes to bespoke joinery in the Irish Construction Industry, offering in-house design and consultancy and constantly evolving product and service, which aim to exceed expectations of joinery and its installation.
Still very much a family business, founder John Senior remains as Managing Director, with his brother Michael heading up the Estimating Department and sons John T. and David operating in Director roles. With a staff of almost 75, and an order book boasting close to 10,000 door sets currently in manufacturing right now, John T. Burke took some time away from the busy facility in Dublin's Ballyfermot to chat to Irish building about the latest strides made by Burke Joinery to maintain their reputation as the best in the business.
"Simply put, we are a family joinery business. No matter how much we flex and grow, we will always stay true to that heritage," he explains. "Established back in 1986 by my father, John Senior, we have been in Ballyfermot since day one and we've developed over the years. At the moment, we sit in a facility with seventy thousand square feet of manufacturing plant, and that's a great indication of how we have developed over time. We have been able to position ourselves as one of the biggest joinery manufacturing companies in the country, and that is something of great pride to us."
Maintaining an ethos of constant evolution is the backbone of what Burke Joinery does. Responding to the growth phase in the industry at the moment, the company has made significant changes to its product and service in order to streamline the joinery process for main contractors working on large-scale projects. The response has been wholly positive, says the Director. "We are going through a high growth phase at the moment, and we are offering the market a really strong product and service based on three pillars of design, manufacturing and installation. It's something unique and different; a lot of our competitors wouldn't offer a service to this extent."
Within these three pillars, Burke are offering three streams to the market. The first is a full joinery offering, which can be seen at Bolands Quay, a development that Burke are working on with BAM. The company are providing the full joinery package which includes approximately 400 casement and sash windows, 1,200 pre-hung fully integrated door sets, and wall panelling on a contract worth €1.4 million. "We are delivering a full turn key joinery package on this project," expands John Burke. "We come in to the project, take every joinery aspect on the job and give the main contractor a single source for joinery. This job in particular is very interesting because we are working on the old mill itself. We are installing over 400 casement and sash windows where we have to try to match the old aesthetic of the windows. We have the traditional joinery, which is the casement and sash windows and then we also have the more high-end finishes on panelling and integrated door sets, flooring and beams." By offering a single source for the whole job, where they can tie everything together and supply it and install it where needed, Burke Joinery are making the entire process more streamlined.
Door sets are the other big offering that Burke have on the market at the moment, according to John. "This is one of the biggest elements of our business, and we have evolved the service over the last eighteen months off the back of some big projects that we finished." The company recently finished Capital Dock for Sisk, which included over 2,500 door sets. It was one of the biggest single phase of joinery works ever completed in Ireland, with over seven blocks run simultaneously. The project included over €3 million worth of joinery commissioned by Burke Joinery.
Why go above and beyond to provide a service that has existed in its own niche for hundreds of years? One word, according to the Burkes: Evolution. "We have reacted to what we feel the market needed," explains John. "If you could visualise a door and frame set; we are offering a full pre-hung door and frame set including all the ironmongery installed. This is something different because before main contractors would have carpenters on site, fitting the door frames and fitting the ironmongery. This was taking up time and resources on site, and costs would end up being higher."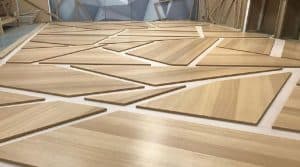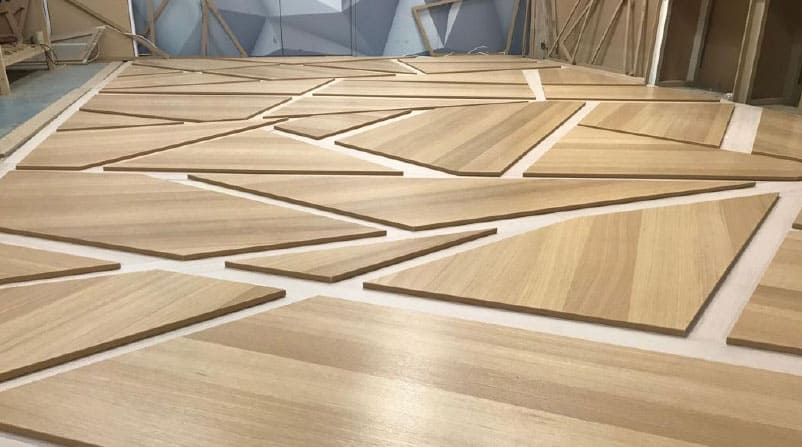 The evolution of the offering from Burke Joinery was a reaction to market resources as much as market volatility says the Director. "As we all know, at the moment resources are finite in the industry, so we have streamlined the process by manufacturing and installing 95% of all the door sets and ironmongery here within the factory. When it's delivered on site, the process is quick and efficient. This is a step we have taken ourselves and there has been a great appetite for it."
Industry response has been plentiful, with Burke Joinery on the books of some of Dublin's most exciting projects. They are currently working with Collen Construction at three projects. At One South County, Burke are supplying over 200 pre-hung integrated door sets, reception desk, 330m2 of their Akustik + panelling system, a specialist meeting room pod, along with standard joinery such as skirting and architraves to the value of €650,000. At The Hive in Sandyford, they are supplying around 150 pre-hung integrated door sets and at Enterprise House, they are supplying the same amount of the same product.
Burke Joinery are dedicated to continuously improving the services they provide and the quality of products that they are able to offer, and through a rigorous R&D programme they are striving to achieve new heights in what is possible within the joinery industry. "The most important part of this process, particularly with the door sets, is that we have to make sure that we are in line with all the various requirements of the Building Control Amendment Regulations," states John Burke.
"We have independent third party certification on all our fire door installations. We are one of the very few companies who are Q-mark certified through BM TRADA. This means that when we are on any of these large volume projects, we get BM TRADA to come in and independently certify our installs. This is something totally different and that we feel, brings our company to the next level. It satisfies the client, the design team, the whole BCAR requirement – it ticks the boxes right across the board."
This is a long held ethos for Burke Joinery, says the second generation Burke. "If you go back to the 1980s, when we first began, we spent a long time in R&D, developing Class O Lacquer systems. My father actually had a patent for the one we developed. This is a running theme throughout the lifespan of our business."
The other big area that Burke has opened up to is in acoustics. Burke Acoustics is a relatively new arm of the company, specialising in the high demands of the acoustic industry. The response has been phenomenal, says John
Burke. "This is an area that we are looking at in terms of future-proofing the business and are truly passionate about," he admits. "We all know the cyclical nature of the building industry and joinery is something that will always have its peaks and its troughs and at the moment it is obviously in a peak."
The company partnered with the UCD over the last five years and are constantly developing and researching various different types of acoustics. "One area we have spent a lot of time on is the development of our own acoustic doors, and general room acoustic solutions. We have partnered with an acoustic company in Germany called Akustik Plus, who are one of the world leaders in the area. This is a space that we are excited to develop, and one which will continue to develop over the next five to ten years – of that there is no doubt."
It's an exciting time for the company, who pride themselves on excellence, and one which has allowed them to push their own boundaries of what they can produce. "We've actively been involved with the engineering department of UCD and it's unbelievable to get into the depths of the technology involved in fire performance, in acoustic performance – the amount of different technologies you have to bring together in a manufacturing sense to bring it to the market and certify it is incredible."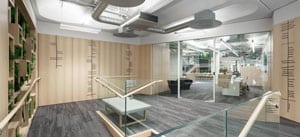 The core values of the business remain the same as they were on day one, and these are the roots, which the Burkes believe keep the business strong. "We are a family business and you can see that through every strand of the business," says John. "My brother David looks after the production end of things, my father John Senior is the Managing Director and is still actively involved on a daily basis. My mother Noelene is involved and my uncle Michael Burke in Estimating who works with us too."
Staff and the company culture fostered by key members of staff are at the centre of the culture at Burke Joinery. "We have staff here since the beginning," says John. "We have a core backbone there, and like most businesses we are actively looking to add to that and to develop that. One of the key aspects for us is all about training and apprenticeships and bringing in the next generation of carpenters and joiners. At the moment we have three apprentices on the books, and that's something that we want to develop further. We all know that whether it's joinery, carpentry, plumbing, electricians – the resources are finite and it's very difficult to get the right people."
What would Burke Joinery like to see happening from Government in terms of future-proofing the industry? Invest in the young people, and give companies the facility to train them, says Burke. "I see a lot of good things happening across the industry at the moment in this regard. We see it with the Irish Skills Live event, which took place this month, which encouraged a lot of young people into the industry. We haven't seen something like this over the last few years and it's good to see it starting. However, there also needs to be incentives out there for employers to hire apprentices and to give them the knowledge and skill that are involved with that."
The contract you enter into with an apprentice is a long and expensive one, and while companies on a larger scale may be easily able to absorb these costs, Government needs to look at smaller businesses in order to support them, says the Director. "You are committing to a four or five year contract with a person when you bring them in, so what kind of incentive can the Government give us to encourage us and enable us to give these guys the education that they need? We want to give them the in-depth training that they need, and it's something that they should look at to encourage the SME's with workshops that have four or five staff members to be able to take on apprentices, because these are the guys who need the help the most, and who can educate the next generation and help the industry going forward."
The state of the art facility in Ballyfermot is perhaps the biggest and most obvious testament to the success and legacy of Burke Joinery, according to John Burke. "The best thing about our facility is its location. We are literally minutes away from Dublin's city centre, and a lot of our work is in and around the Greater Dublin Area," he says. "The facility itself has grown from 20,000 square feet at the beginning to where it stands today at 70,000 square feet. Over the last five or six years we have invested close to €2 million in the latest technology, whether it be CNC machines or the latest software packages that we need to supply our projects in line with BIM and the various different programmes that you need to support the design aspect of a project."
Staying on top of technological change within the industry is essential in terms of success, and this is a tenant that the management of Burke Joinery strongly adhere to. "It defines where you are viewed by the market and when you come to the initial design phase on any project you will find that this is the most important part of any project," points out John Burke. "It's the part of the project that needs the investment of the most resources and time and like we always say, if you get that part right, the project will run smoothly. We spend a lot of time and resources on this area and we go above and beyond to not only be a joinery manufacturer and installer, but a consultant. We advise the design team, we advise the contractor and then commit to the project from day one in order to educate them on what we can offer and do, and what we can certify and what we cannot. This goes beyond the joinery product itself to become a more rounded service that benefits everyone in the long run."
Burke Joinery has invested significant time and money into maintaining top of the line health and safety practices, and rightly so, says John Burke. "From a manufacturing point of view, we have a unique environment with a lot of modern day machinery, which are very safety conscious." The company also has a lot of traditional joinery machine stock which might date back to the 1950s and 1960s which they have upgraded and improved to ensure that the environment for staff is as safe as can be. "We also have invested in a new dust extraction system in place to minimise dust on the factory floor and are extremely conscious that when staff come in we have a clean and safe environment to operate in and that's something that we've developed massively over the last five years."
With a strong order book in play and a manufacturing facility in overdrive, Burke Joinery is on the up and up. Their success, says John Burke, is down to hard work and a commitment to excellence. "I suppose its testament to our approach, long term strategy and service. We are glad to be positioned well to offer our clients a service from a single source that is in line with the high quality of the projects they produce, and we are proud to be a part of them."