2019 ISOVER awards winners announced
The ISOVER awards ceremony, which took place at the Smock Alley Theatre on 6

th June 2019, saw over 100 construction and building professionals, including architects, engineers, builders and developers, come together to recognise and celebrate the best built and most energy efficient building projects from across Ireland.

According to the ISOVER Awards 2019 judging panel, the winning entry 'The Fairways ' by Simply Architecture demonstrates the perfect way of doing things in terms of sustainability and design, and showcases a stunning residential property that achieves the passive house standard. The design responds ingeniously to an extremely challenging suburban site to prove that world class energy performance can be achieved with show-stopping aesthetics, utilising low embodied energy materials.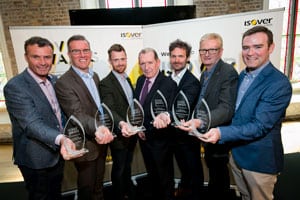 The announcement of the 2019 ISOVER award winners comes as the urgency for addressing climate and environmental change reaches unprecedented levels.
Speaking on the impact outstanding energy efficient design and build in construction can have on reversing climate change, Managing Director of ISOVER in Ireland, Brian Dolan said: "Today, leaders in Ireland's construction sector were celebrated and awarded for their world class energy efficient building projects. All building professionals play a significant role in promoting the benefits of energy efficient buildings and thus have a crucial part in providing Ireland with a more energy efficient future. The ISOVER awards showcase what excellence in energy efficient design and build looks like in 2019 and highlights the importance of continually striving to improve the energy performance of our buildings.  It is crucial that we continue to take the energy efficient concept forward and continue to promote its benefits to individual homeowners and businesses."
The project, also known as the 'Steep Wedge House', achieved success also at the 2019 Irish Construction Excellence Awards having been a finalist in the Residential Category. The contractor for the project was ECO Timber Frame.
The ISOVER Awards 2019 Winners List:
Designers:
Excellence in Commercial New Build – Henry J Lyons for City Quay, Co. Dublin
Excellence in Commercial Renovation – The Passivhaus Architecture Company for St Joseph's Woollen Mills, Co. Cork
Excellence in Residential New Build – Simply Architecture for The Fairways, Co. Cork
Excellence in Residential Renovation – Low Energy Design for St. Bricin's Park, Co. Dublin
Contractors:
Excellence in Commercial New Build – Ceiling and Allied Ltd for Maldron Hotel, Co. Cork
Excellence in Residential New Build – Cosgrave Developments for Fairway Drive & Abbot Drive, Co. Dublin
Excellence in Residential Renovation – CHP Mechanical Services Ltd for Central Promenade, Co. Down
Contractor and Designer of the year:
Runner Up & Contractor of the Year 2019 – Cosgrave Developments for Fairway Drive & Abbot Drive, Co. Dublin
Overall Winner & Designer of the Year 2019 – Simply Architecture for The Fairways, Co. Cork