Sika Ireland helps restore WWII Éire sign
Following the restoration of the large ÉIRE sign number 8, on Wicklow's Bray Head, last year, Sika Ireland recently took part in the refurbishment works of number 7 in Dalkey.
The sign, located at Hawk Cliff in Dalkey, south Dublin, was used as a navigational signal during World War II. In 1942-1943, approximately 83 of these signs were built, placed every 10 miles along the coastline, to alert pilots to neutral territory. Unfortunately, from the original 83, only 5 have fully survived today.
The letters are made of small irregular granite stones, held strong, and painted white. The sign is enormous – about 30m wide and 12m from top to bottom. Over six months, more than sixty local volunteers helped with the cleaning and painting of 100 tonnes of stones, to fill the sign.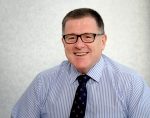 Sika Ireland's Managing Director, Declan Carroll said: "We provided 175 litres of SikaGard 670W to render the finished letters in brilliant white colour, as they would have been during the war. The result that the group of volunteers has achieved at the cliffside in Dalkey is just amazing, and I am pleased to see another piece of history brought back to life."
As a testimony to this, Des Burke-Kennedy, a member of Dalkey Tidy Towns, said: "Words are just not enough to express how grateful we are for what Sika has done for us. They have transformed our project. The Sika paint is so effective, and it really is a fantastic product."
Watch the amazing aerial footage.