Details of Preferred Route for MetroLink announced
National Transport Authority (NTA) and Transport Infrastructure Ireland (TII) have announced details of the Preferred Route for MetroLink, the metro service that will run from Estuary north of Swords to Dublin's south city, serving Dublin Airport and the city centre.
This follows on from the publication last year of the Emerging Preferred Route which went out for public consultation. During the consultation process, issues came to light and the route we are announcing today addresses the concerns raised.
Among the most significant changes is the proposal that the construction in the Mobhi Road area will no longer require the acquisition of the pitch belonging to Na Fianna CLG. Originally it was proposed that pitches at Na Fianna and the adjacent Home Farm FC would be temporarily acquired for the seven-year duration of construction.
In consultation with Home Farm FC, we now propose to construct a more compact station under their pitch. The pitch will be unavailable during the estimated three-year construction process but will be fully restored afterwards. There will be no impact on CLG Na Fianna pitches.
A second significant change is the arrangement around Charlemont. The route we published last year included a proposal to upgrade the Luas Green line to Metro standard, in line with the Transport Strategy for the Greater Dublin Area.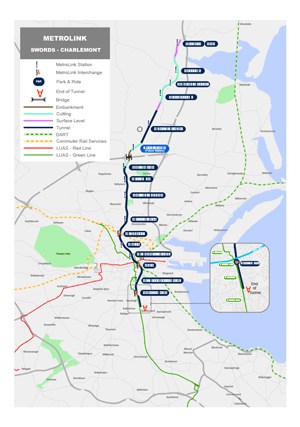 It is projected that the number of people seeking to travel on the Green Line in future years will exceed the carrying capacity of the Luas system, requiring an upgrade. However, that upgrade is not expected to be needed for some time – perhaps twenty years or so.
During consultation a concern arose about the need to close the Green Line for a prolonged period during an upgrade. Acknowledging these concerns, an alternative approach has been developed that allows the new section of metro line to be built now, with the Green Line conversion to metro, to occur at an appropriate point in the future.
The plan we are publishing today is to develop the section from Swords to Charlemont with an interchange from Metro to Luas at Charlemont for passengers. The required tunnel boring works to allow the future connection to the existing Luas line will be completed as part of this current phase.
In the city centre, changes have been made to the plan that will reduce disruption and make it easier for other public transport services to continue to operate during construction.
In O'Connell St, an opportunity has arisen to create an integrated station, under what was the old Carlton cinema and that surrounding area. The location and construction of this station in the original proposal would have presented a significant challenge to Luas services, bus services, and vehicular traffic on O'Connell Street. We are working with the owners of this property with a view to the site into the proposed development.
Disruption in St Stephen's Green area will also be reduced under the new plans. This station will be located as previously proposed at St Stephen's Green East, but we are now moving it slightly south so that Hume Street can remain open during construction, and slightly west so as to avoid closing the road during construction. This also means we can avoid a major sewer that would otherwise require diversion. St Stephen's Green park itself will be impacted to a small extent as a result.
We are consulting closely with Dublin City Council and the Office of Public Works (OPW) on this proposal.
In Ballymun too, the station is to move a short distance. It will now lie adjacent to the R108 partly under the site of the old shopping centre, where plans are in place for a new mixed use quarter following its demolition. This will cause far less disruption during construction and we believe is a much better all-around solution for Ballymun.
The number of homes that will need to be acquired for the project has gone down from 105 in last year's Emerging Preferred Route, to 85 in the Preferred Route we are publishing today. For example, an apartment building near Glasnevin Station, which is currently home to about 40 people, will no longer need to be acquired.
It is expected that a Railway Order application will be made in 2020, with a decision from anticipated the following year. Construction is likely to take six to seven years.
Anne Graham, CEO of the National Transport Authority said: "There are very significant benefits associated with MetroLink, particularly in terms of the integrated transport system that it will bring about for Dublin.
"For example, thanks to MetroLink, there will finally be a rail link to Dublin Airport, and with easy interchange with other modes including bus, Dart and commuter rail, MetroLink will make it easier than ever to move into and around the capital.
"It is also of benefit in providing a more sustainable transport alternative and by providing a great incentive to get people out of their cars and on to public transport.
"MetroLink will be a significant economic driver for the region with about 4,000 jobs to be created during construction.
"The MetroLink plan we are announcing today is a key component of the Transport Strategy for the Greater Dublin Area, 2016-2035, adopted by Government in 2016. In addition, MetroLink is one of three major public transport infrastructure projects included in the National Development Plan under Project Ireland 2040, published in 2018, along with Dart Expansion and BusConnects."
Transport Infrastructure Ireland CEO Michael Nolan said: "Last year we conducted a genuinely consultative process and we listened in an authentic public consultation exercise.
"For the last twelve months our engineers and designers have analysed every aspect of the alignment and developed a Preferred Route, which we believe will deliver the best service with the least impact on the city during construction. We look forward now to receiving feedback on this route so we can refine the design and proceed with making an application for a Railway Order next year."