mac Skystone modular joint venture to target surging residential demand
A new joint venture between Irish construction and fit-out firm mac-group and modular specialist Skystone is set to tap into surging demand in Ireland to quicken up residential delivery.
The new joint venture offers solutions to mitigate the traditional risks associated with delivery of critical social and physical infrastructure, homes and built assets.  Traditional construction methods are more vulnerable to fluctuations such as skills and labour shortages, Modular produces complete units offsite in stable labour markets where quality can be tightly controlled, in a factory environment unaffected by weather conditions. Developers – both private and public – are seeing modular as a higher quality product than conventional construction and that is a driving factor.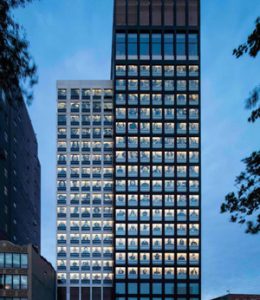 The new company's offering is the construction of higher-quality buildings faster and cheaper using modular technology than is possible through traditional building processes.  It will target the residential, student accommodation and hotel markets in Ireland and the UK, with the venture offering core capabilities across the whole modular process.
The mac Skystone joint venture has already partnered with multiple developers to complete significant modular projects, including the world's tallest modular hotel, the Citizen M Bowery in Manhattan.  With modular builds up to 21% faster than traditional builds, mac Skystone is set to now expand its services and bring its modular expertise to further residential and hotel projects in New York, California, the Caribbean, the UK, Ireland, and beyond.  Other notable projects delivered to date include the POD hotel in Brooklyn and the Marriott AC in Times Square, which is North America's tallest modular building.
Commenting on the launch, Paul McKenna, mac-group MD, said: "mac and Skystone share an ambition to bring the advantages of modular construction to the Irish and UK market, and we believe there is a real opportunity now in Ireland to use modular technology to increase, in particular, the supply of badly-needed housing stock in a sustainable, timely and cost-effective manner.   We are combining the expertise of both companies to bring a turnkey solution to the private and public sectors, and our focus is to maximize the benefits of modular through continuity across the entire project delivery process for our clients."
Jack Dooley, CEO of Skystone, said: "We wanted to create a venture in Europe that would be able to mirror exactly the extremely successful model we are delivering to the North American residential and hotel market, and in mac we have found the innovative and creative partner to bring this to fruition and deliver a complete solution to the Irish and UK markets."
"Most complex integrated modular projects completed in the past have experienced a litany of issues resulting from a lack of coordination between developer, contractor and modular manufacturer," Dooley added. "With our unique modular integration, manufacturing, installation and logistics expertise, we have the unique experience and skills to proactively manage all aspects of any modular-based project. We strongly believe this joint venture can make a real difference to the people of Dublin in terms of meeting the surging demand for affordable quality houses in a cost-effective and rapid way.  Early engagement in the design process has been key on our most successful projects so far, and we have invested heavily in an expert modular team, processes, and certifications in order to be able to deliver each phase of modular construction, including design, manufacturing, transport, and construction, to ensure a quality final product."
The mac Skystone modular proposition offers real benefits to investors in terms of cost savings relating to labour, as well as introducing greater overall cost certainty.  The faster build-times are the result of parallel on-site and off-site construction involving a repetitive process in a controlled environment. The modular process fosters higher quality relative to conventional construction processes in terms of tolerances and quality control, with the construction process sheltered from the elements during fabrication. The assembly-line process involved uses less energy, with waste reduced by excess stock on future projects.
Irish company mac-group was established in 2002, and operates in Ireland, UK and Continental Europe.  It's most recent accounts show revenues of €190m, with direct employees numbering 180 and offices in Birmingham, Dublin, London, and Newry.  Skystone was founded in 2014 and operates in the US, Puerto Rico, and Europe, directly employing 50 people.  It is headquartered in New York, with offices in California, Dublin, and Poland.
mac Skystone provides a turnkey modular solution to clients that covers design, manufacture, transport and construction.  It focuses on steel frame modular construction, with each unit manufactured under the strictest of tolerances, creating a robust product for transportation, installation and stacking.  All mechanical, electrical and plumbing systems are tested and signed off by two independent certification bodies with a full furniture, fixtures, and equipment package provided.  Full assembly and inclusion of integrated facade and glazing elements are also provided into the module by mac Skystone.
See www.macskystone.com for more.