Jones Engineering Obtain BIM Level 2 BSI Kitemark™ for PAS 1192-2:2013
Jones Engineering, a leading international engineering contractor has received the BSI Kitemark™ for BIM Level 2 in accordance with PAS 1192-2:2013 (Design and Construction) certification from BSI (British Standards Institution), one of the most respected and reputable standards and certification providers globally. Jones Engineering successfully passed the audit held in November 2018 making them the first Irish engineering contractor to hold a BSI Kitemark for BIM (Design and Construction) certificate that covers Mechanical, Electrical and Fire Protection systems.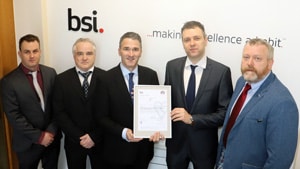 The BSI Kitemark builds on the Verification scheme that Jones Engineering successfully obtained at the end of 2017 for BIM Level 2 covering PAS 1192-2:2013 (Specification for information management for the capital/delivery phase of construction projects using building information modelling). It demonstrates that their BIM processes, procedures and management systems on completed projects are fully in compliance with the standards set out within PAS 1192-2:2013 which also includes meeting the requirements of BS 1192:2007+A2:16 and BS 1192-4:2014.
This BSI BIM Kitemark™ will also have a direct association with the new ISO Standards of BS EN ISO 19650-1 and BS EN ISO 19650-2 which were published on the 18th January. This means that the transition from PAS1192-2 over to the ISO 19650 standards should be a seamless transition, with minimum impact on Jones Engineering aligning to these new ISO standards.
Andy Butterfield, Product Certification Director of Built Environment at BSI said: "Huge congratulations to Jones Engineering for achieving the BSI Kitemark for BIM Design and Construction (PAS 1192-2). We're delighted to have supported the team with this achievement which demonstrates their commitment to best practice.
In a competitive marketplace, organizations delivering BIM projects need to find a way to differentiate themselves, regardless of whether they are tendering for public or private sector projects. Progressing from BIM verification to the BSI Kitemark has enabled Jones Engineering to build their business in the new era of digital technology and access global markets, giving its clients the reassurance that they are working with partners operating at the highest possible standard."
John O'Brien, BIM Manager, Jones Engineering said: "It's a fantastic achievement for Jones Engineering, as very few organisations have obtained this BIM Kitemark of excellence. It shows that Irish companies are embracing Digital Engineering and are delivering BIM Level 2 projects to the highest of standards. Our focus is now about consistency, together with maintaining this Continuous Improvement philosophy within our BIM strategy."
Jim Curley, Group Chief Executive, Jones Engineering said: "The BSI Kitemark is an acknowledgement of our commitment to consistent and demonstrable workflows for BIM. The focus BSI places on continuous improvement and engagement ties in with our core values and reflects our belief in added value for our clients. Relationships are the lifeblood of our company and strengthening these throughout the project delivery process is of utmost importance."
As well as achieving this high standard, Jones Engineering have been presented with a number of awards in recent years recognising their approach, delivery and innovations within BIM. With fast-track schedules and increasing project complexities becoming the standard in the industry, having independently tested and verified BIM procedures leads to greater efficiencies and value, going beyond all project expectations.
Jones Engineering are currently recruiting BIM Detailers for their mechanical, electrical and sprinkler divisions. Interested candidates are invited to send a copy of their CV to HR@joneseng.com