The scope and the scale of the business may have changed substantially in the 50 years since Aston Crean started trading in Charlestown, Co. Mayo in 1968, but the fundamentals are all still there. A focus on quality craftsmanship, developing strong relationships with staff, suppliers and customers, and diversifying to meet market demands remain very much at the core of this family operation.
The 50-year anniversary finds Aston Crean in a pretty good place: the company is one of Ireland's leading flooring, tiling and carpet contractors working across a range of sectors and on some of the most high profile construction and fit out projects in the country.
This year, group turnover is expected to be in the order of €23m, not too far shy of the peak in 2007. Employee numbers, meanwhile, have reached 180, the highest in the company's history.
In addition to head office in Charlestown, the company now has offices in Blanchardstown in Dublin and Romford in London, as well as retail showrooms in Charlestown, Castlebar and Sligo, and a distribution business.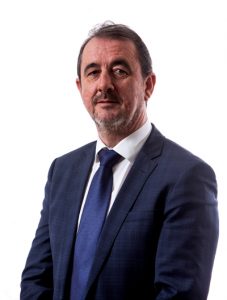 The business was set up by current chairman Alan Crean's parents Willie and Carmel shortly after they married. Willie had over 20 years' experience at that stage, having started out working at Irish Mosaics, his brother's mosaic assembly and installation company in Roscommon. He subsequently spent several years in the UK learning the terrazzo flooring trade in the London underground.
After establishing Crean Mosaics in 1968, Willie spent the next few years working on supply and installation projects all over the west of Ireland and sometimes beyond. Carmel was responsible for the bookkeeping side of the business as well as running her own hairdressing salon.
In the early 70s, ceramic tiling and vinyl tiles became fashionable so Willie learnt the necessary installation skills to branch into this area and also employed up to 15 fitters depending on requirements.
Alan Crean began helping out when he was eight or nine years old and quickly knew it was the business for him. "When a decision had to be reached on when I would leave school and join the business, it was an easy one," he says. In 1985, straight after completing the intercert and at the age of just 16, his full-time career began.
"I spent the next two years working on-site learning my trade," says Crean. "I worked in many different locations that year including Naas, Kilrush and Letterkenny and that experience was invaluable ahead of my father's sudden passing in 1988."
A focus on expansion
Helped by Carmel, Crean quickly learnt the ins and outs of the business and soon started expanding. He opened the first retail unit in Castlebar in 1989, along with a new warehouse in Charlestown. In 1992, he bought the site next door to the family home and office and opened the second shop there a year later.
The same year, the company completed its first major project in Dublin – the refurbishment of the Swan Shopping Centre in Rathmines.
"Business was growing rapidly at that time and I saw the opportunity to develop it further but I needed some help," he says. That need coincided with his sister Laura and her husband Brian Ruane – a quantity surveyor – deciding they wanted to move back to the west from Dublin.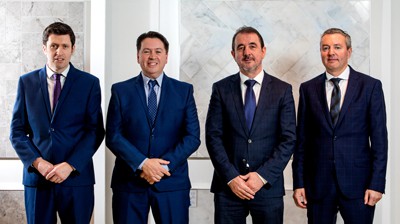 When Ruane joined the business in 1995 Crean Mosaics became the first company of its kind to employ a full-time QS. His main focus was Dublin and the company soon established a firm base in this market. At this stage, the company was involved in ceramic tiling, porcelain flooring, marble and stone floors and soft flooring and counted all the main Irish building contractors among its clients.
"We ventured into the office market around that time and over the next few years worked on many of the buildings along the quays," says Crean. "We did the carpet fitouts in the likes of PwC in Spencer Dock, for example. During that period, we grew to become Ireland's largest tiling and flooring contractor."
The retail business was also expanding and the firm moved to new premises in 1998. David Cunningham – who's now sales director – also joined that year and ran the Charlestown shop for a while before settling into the contract's division. "David's enthusiasm, drive, commitment and hard work has played a significant part in the company's success," says Crean.
Financial director David Moran came on board in 2005 and began the development of a new job cost system. "David's skills have proved to be an invaluable asset to the company and he continues to influence and strategise on how best we manage our finances in our ever-changing industry."    
Looking for new opportunities
The business continued developing and had grown to around 150 employees by 2007.
From the time Crean took the reins until 2007, turnover grew by 5,900% to €24m. "Due to the size of the business then and our hopes for continued growth we restructured our management, which resulted in Brian Ruane being appointed as managing director of Crean Mosaics, and my move to chairman of the group," he says.
With the market at a virtual standstill, a difficult couple of years followed, but the company was able to retain a large proportion of its employees. "We had to let some people go and they were dark, dark days in the company's history," says Ruane. "We were probably late in doing that but we did have to make some hard decisions. Those we were able to keep have remained very loyal to the cause and have been such a huge part of our success to date."
Trying to identify new markets to help generate work during these times, the company decided to set up an office in London towards the end of 2010. Getting established in such a competitive market was tough, according to Crean. "It took a long time to get the quality of staff there that we wanted. In the end, we sent over one of our up-and-coming stand-out employees Liam Duffy who is now commercial director and manages the business for us over there."
The company also opened up a further retail showroom in Sligo in 2013 to increase revenues. A year later, having seen a number of distributors and suppliers cease trading during the recession, the firm started a wholesale and national distribution business, Ceramic City. That operation now supplies 70 to 80 retailers throughout Ireland with ceramic tile products and continues to grow. After just four years in existence, that part of the business will have turnover of around €3m this year.
And 2018 has been the busiest to date in terms of new orders, says Crean. In Ireland and the UK, the order book for 2019 is looking positive. "The volumes of work are there in the market at the moment," Crean says. "There wouldn't be the same level of profitability attached to those volumes as we would have seen back in the boom but we can see there is improvement."
UK growth market
Although times have been tough this year in the UK construction industry, Aston Crean has never been busier in that market, says Crean. "I think more people are aware of our business now: we're developing contacts, our relationships are building and we're spreading our wings a little bit more rather than the market expanding or anything like that."
The UK business is expected to account for around 20% to 25% of overall turnover in 2019. The management team has taken a conservative approach to the market and has always tried to minimise the risks associated with starting off in a new market. "Because we set it up when times were still very tough in Ireland, we couldn't afford to take our focus off the market here, which is ultimately our bread and butter."
Rather than opting to spend half the time in London and the other half in Ireland, the decision was made to take a long-term view and to try to develop the right people from within the business. "We also needed to build some trust in that market which is hugely important," says Crean. "We haven't made a fortune but we have had consistency and we haven't been exposed to bad debts. And I think now we're beginning to reap the reward for that cautiousness."
Aston Crean's track record in the UK – and its longevity at this stage – have allowed it to establish relationships with an increasing number of UK-based contractors. "We're less of a risk than we were when we entered the market so they're happier to place business with us. So many times, at the start we were asked if we'd be around in five years' time."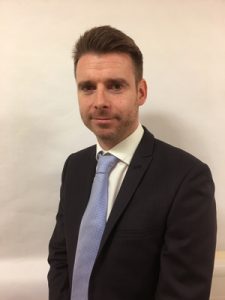 Liam Duffy UK commercial director
"Liam Duffy our commercial Director in the UK joined our company in 2004 as a junior QS. Liam's Career progressed rapidly which led to him to take up ranks as our senior QS working out of our Blancharsdtown base in Dublin. When the opportunity to move to London and become a senior player in our UK organisation presented itself, Liam seized the opportunity immediately. Liam now heads up our London office and continues to drive this business from strength to strength as our UK commercial Director," Crean says.
Milestone projects
The company completes around 250 projects each year across a wide range of sectors. The biggest job to date has been the new acute hospital for the south west in Enniskillen, Northern Ireland which took around 12 months to complete in 2011. Valued at £4m stg and involving floor and wall finishes extending to over 100,000 sq m, the project has also been one of the largest ever hospital contracts undertaken to date in Ireland or the UK.
Another prestigious UK contract involved tiling the Olympic village ahead of London 2012.
One of the company's first big jobs in the current cycle involved working on the new Central Bank headquarters on North Wall Quay for main contractor Walls. Valued at €2.15m, the job included over 8,600 sq m of porcelain, 276 sq m of wood, 11,850 sq m of carpet tile, 4,800 sq m of vinyl and 950 sq m of hygienic wall cladding.
"That was a very prestigious project and we were delighted to be involved," says Ruane. "It was also a very large project but we had the confidence because we'd done such big projects before."
High profile jobs this year have included a €3.25m contract for main contractor John Sisk at Kennedy Wilson's Capital Docks
office and build-to-rent scheme. The work involved porcelain tiling, stone, wood flooring carpets and vinyl. A €750,000 fitout on the same campus for JP Morgan has also just been completed.
Aston Crean is also currently working with Sisk on the €50m extension to the Bon Secours hospital in Cork.
And work is just about to start for main contractor JJ Rhatigan on the Lansdowne Place residential scheme, which will include 215 luxury apartments across seven blocks. For Aston Crean, the 12-month project will include all flooring and tiling across the entire development and is expected to be worth around €5m.
Another residential scheme that's set to begin shortly is Fernbank in Churchtown, a 262-apartment development bought by Irish Life Investment Managers during the summer. The main contractor is Walls and the project is worth €1.25m.
Aston Crean is also set to start work on the new National Forensic Mental Health Hospital, which is being constructed by Rhatigan OHL at St Ita's in Portrane and will replace the Central Mental Hospital in Dundrum. The contract value is €1.25m.
"There's never been such a glut of large projects in our history as there has been over the last 18 months," says Crean. "With the lag in the construction industry there was nothing for years and now everything has come to site simultaneously. It is a challenge because they're some of the biggest jobs we've ever had to do."
Sectoral knowledge
As well as operating in the office, healthcare and residential sectors, the company works on projects in the educational, pharmaceutical, IT, retail, hospitality and leisure sectors. "Ireland is such a small market that we have to focus on the different disciplines that are involved in flooring and tiling," says Crean.
"We need to be equally as good at delivering luxury finishes in a new hotel as we are at meeting the very exacting requirements of a pharmaceutical plant. It's two completely different skill levels but we have the skills in-house to do hotels, schools, office blocks, residential or a high profile pharmaceutical fit-out."
In fact, around 15 years ago, when the company took on a €3m project at the Wyeth pharmaceutical plant in Grangecastle it was its largest ever job at the time. For Ruane, it was one of the company's milestone projects. "We've never been afraid to take on large projects over the years," he says. "We've always believed we can take on any sized project working for the right people and building the right team."
In the educational sector, the company has worked for UCD, DCU, Trinity College, NUIG, UCC, IT Sligo, GMIT and UL, as well as primary and secondary schools nationwide. In the student accommodation space, it has worked on schemes in Montrose, Summerhill and Grangegorman in Dublin and Bohermore in Galway.
As well as the Central Bank, public works contracts have included Kevin Street Garda Divisional HQ, Wexford Garda Divisional HQ, Wheatfield Prison, Portlaoise Prison and the headquarters of Meath County Council.
The company has done large scale jobs at high tech facilities occupied by Intel, Pfizer, Amgen, BD Medical, Allergan, Abbot and Boston Scientific.
On the offices and fitouts front, some of the buildings that have Aston Crean flooring and tiling include 1WML, Miesian Plaza and Baggot Plaza. Tech and telecommunications companies that have occupied spaces Aston Crean has worked on include Microsoft, LinkedIn, Facebook, Google, Amazon, Eir and IBM.
The company has also worked extensively in the hospitality area on Radisson Blu, Hilton, Premier Inn, Crowne Plaza and Clarion hotels. And it has worked in St James's Hospital, Blackrock Clinic, University Hospital Galway and Wexford General Hospital.
Projects have been completed for all the main retailers, while sport and leisure schemes have included the Aviva Stadium, National Indoor Arena and Croke Park.
While the company is keen to target bigger, headline projects and has been successful in doing this, size isn't everything, Ruane says. "We're not all about the big projects and a lot of the nice jobs we do are smaller sized. We were very happy during the recession to take whatever value of job was put in front of us. While we're fit to take on big jobs and believe we can deliver them, it's very important that we never start ignoring the smaller ones."
Reputation is key
Building and maintaining a good reputation for both getting the work done and paying suppliers have been cornerstones of Aston Crean's success, according to Ruane. "The outlook of everyone involved has been so important," he says. "The company had humble beginnings and there was always value attached to having good people around and that continues to be the case."
The business has been grounded in the understanding that the work has to keep coming in and reputations are only as good as the last job. "We've always delivered and so the reputation has slowly built up," Ruane says. "We do what's needed to deliver the projects, sometimes in painful circumstances. When you take on a job you have to finish it. Part of being able to that is having the support of your supply chain and your staff. They're really the basics."
This kind of support paid dividends when the Central Bank project came up. "We were in a position just coming out of recession to fund that type of job," says Ruane. "That's down to having the support of our suppliers: they trusted us, they knew we'd pay them every bob we owed them, despite the fact that on some occasions we had some bad debts and we didn't get paid.
"It's all down to the philosophy of what a successful company is – you need to have principles and you must work really hard."
Appreciation for the customers and suppliers that provided support when things were tough is still very keenly felt. "Our relationships with our suppliers have been very strong," says Crean. "They played a big part in us getting through the recession.
"We've taken the view as we progressed that the people and customers who remained loyal to us during the recession are still the spine of our business in the boom," Ruane says. "There's more choice now but the last thing we'd want to do is forget the core group of customers who looked after us and kept the dinner on table during the bad times.
"As things were getting busier, we consciously went to talk to our customers, to tell them that our order book was filling up but we'd have room for them if they still wanted us."
The fact that staff kept the faith was also hugely instrumental in Aston Crean's ability to take on the large-scale jobs it has in recent years. "We told them that when the market turned, we would be fantastically well placed to take advantage," says Crean. "Admittedly, it took a couple more years for that to happen than we would have hoped or envisaged but it has happened. And when the opportunities came, we were able to jump on them straight away. One of the reasons we do manage to win the large projects is because we have a wealth of experience in our various departments which includes quantity surveying, contracts managers, accounts, H&S and administration."
Building for the future
Looking to the future, the management team is excited about the opportunities going forward but remains very cautious. "The rapid growth in output in the industry has brought risks as well," says Crean. "And unfortunately, we have been exposed to some of those risks with a number of contractors having failed recently. In 2014, we thought we'd left all that behind after going through very turbulent times with so many customers going into liquidation and receivership and so on. We suffered very heavily on the bad debt side of things.
"And then suddenly, in late 2016 and early 2017 a couple of our customers went into examinership and that was very costly. And we had a couple of near misses."
Inflation around labour and materials are an ongoing concern. "Contractors – including ourselves – have to be very conscious when pricing work, or you could find yourself in difficulty, inflation is one of the challenges our industry must face."
"So really over the last year, we have just had to be more cautious again about how we go about our business."
The plan is to continue growing, but to do so in a very sustainable way, Crean says. "I'm very happy with where the market is now but we will take advantage of any opportunities that the market may offer us," he says. "But we're also very conscious that we do not want to be part of a repeat of what happened in 2009/10 and 11."