CIF Annual Conference 2018
The focus of the CIF Conference was on "How construction will shape Irish careers, communities and competitiveness over the next 25 years." The CIF's Annual Conference discussed how the industry work culture is changing and will change for the better with technology, greater equality, increasing collaboration, and growth in domestic Construction R&D and Innovation.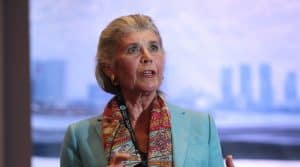 The CIF Annual Conference took place on October 2nd in Croke Park with nearly 600 delegates and exhibitors in attendance.  The conference was addressed by the Minister for Housing Eoghan Murphy and Secretary General of the Department of Public Expenditure and Reform, Robert Watt.  Both influential policy-makers spoke about the importance of construction to the entire economy and wider Irish society.  Both are involved in the newly established Construction Sector Group after a two-year campaign started at the 2016 CIF National Conference.
The CSG will fundamentally alter how the industry and Government and its agencies work together to deliver sustainable growth in construction and a stable and productive industry over the next 25 years.
Speaking of the great presentations CIF Communications Director Shane Dempsey said: "The conference heard from some excellent domestic and international leaders in construction.  Our International Keynote Henrik Lund-Nielsen talked about the disruptive potential for 3D printing in the construction industry as his company has just printed Europe's first regulation compliant building.  Sandi Rhys Jones OBE spoke about the importance of gender equality in the construction industry for its future and its productivity. She challenged the construction industry in Ireland to improve gender equality and commended the CIF and its members on the steps it had taken in this regard."
The CIF's outgoing President Dominic Doheny welcomed the Government's commitment to the industry and announced that the Federation will launch a major national advertising campaign to promote careers in construction to young people in 2019.  He also announced a joint initiative with all Institutes of Technology to increase the level of Research and Development; and Innovation in the construction industry.  Finally, he announced that the CIF was developing with the IMI a growth strategy for the construction industry in the coming year.
Irish building magazine was delighted to have been a media partner for the event, see you next year.
You can watch the speakers' presentations on the CIF's YouTube Channel here.
You can view the CIF Conference Presentations Page here.
Follow @IrishBuildingOL on Twitter #Irishbuilding