€26 million investment ends discharge of sewage into Blackwater Estuary
Minister of State David Stanton officially opened Youghal Wastewater Treatment Plant on Friday 27th of September 2018. SNC-Lavalin's Atkins business is delighted to be part of the team who successfully delivered this project from concept through to commissioning. The €26 million in the overall scheme, has ended the discharge of raw sewage into the Blackwater Estuary.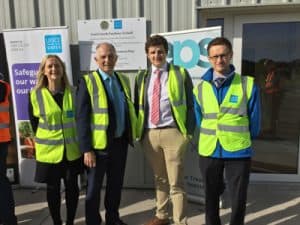 The overall scheme comprises of a new Wastewater Treatment Plant for Youghal town and environs and an upgrade of the Youghal Town sewerage collection system. A number of pumping stations were also upgraded, and a new pumping station constructed to facilitate the removal of waste water overflows to the Blackwater Estuary. The works lead to a majority separation of sewage from the storm water collection system which, in addition to bringing a significant reduction in environmental impact, massively reduces the future cost of waste water treatment.
Atkins were appointed as Employers Representative and Designer on this project from feasibility, environmental impact assessment and statutory planning, through detailed design, performance specification and procurement of the Network Contract through an Employers Designed Contract and the WWTP through a Design Build and Operate Contract. Atkins supervised the construction of both contracts through construction, testing, commissioning and handover to the operations team. In total the works included for over 7km of gravity pipes and pressure mains up to 750mm dia; a 16,000pe WWTW (with facility to increase to 24,000 in Phase 2), 3 number pumping station upgrades (up to 400l/s) and construction of a new 200l/s pumping station.
Brian McKavanagh, Technical Director, Atkins commented 'The Blackwater Estuary at Youghal provides abundant recreational and leisure activities for both residents and visitors to Youghal and has done so for many years; it is the cornerstone of the Youghal tourism offering. This project will enhance and protect that offering into the future by stopping uncontrolled and untreated wastewater discharges to the estuary thus improving bathing water quality. This project was met with many technical challenges, not least significant medieval archaeological finds, tidal waters and narrow urban streets. These challenges were successfully met through close engagement with Cork County Council and Irish Water, our contracting partners and the business and community groups in Youghal.'
Justin Norman, Managing Director, Atkins stated that 'Atkins is delighted to have been involved with delivering this very important project for Irish Water and Cork County Council. From the project outset and at all design stages, Atkins worked closely together with the client and stakeholders to ensure successful delivery of the project, which will end the discharge of raw sewage into the Estuary. It will no doubt have a very positive impact on the environment, local community and tourism for the area.'
Minister of State David Stanton commented: "This is a very significant day for all of us here in East Cork. The opening of this new wastewater treatment plant is a key step in helping Youghal to fully realise its enormous potential as a great place to live, work and visit.
"These are exciting times for Youghal. Next year we will host Ireland's first ever full Ironman competition. Having a clean ocean environment will ensure that this area can continue to attract events like this in the years to come. I would like to congratulate all involved in bringing this project to fruition. The people of Youghal will now enjoy all the benefits of having state-of-the-art wastewater treatment in their local community."
Irish Water's Infrastructure Programme Manager Mark Murray added: "We are delighted to be here today to mark the official opening of the long-awaited wastewater treatment plant in Youghal.
"The completion of this essential piece of infrastructure will ensure that wastewater from homes and businesses is treated and discharged in full compliance with Irish and European environmental standards. No longer will raw sewage be discharged into local waterways and the sea, leading to big improvements in the quality of the aquatic environment."
The project, on the Breton Road, was delivered as an EPS/Sorensen joint venture in partnership with Irish Water, Cork County Council and other stakeholders.
John Lynch, EPS Contracts Director says, "The EPS/Sorensen Joint Venture used modern design and construction technologies to ensure that both Irish Water and the community of Youghal have a treatment plant to be proud of".