Support and Opportunities for Construction SMEs in Public Procurement
The Department of Public Expenditure and Reform and Procurement Consultant Ross McCarthy, Owner of Keystone Procurement, discuss Construction SME Participation in Public Procurement and identify the supports and opportunities available.
The Office of Government Procurement, operating as an office of the Department of Public Expenditure and Reform, are working to promote SME participation in public procurement, and from our discussions here it is clear that there are opportunities and potential for Construction SMEs who have a hunger to compete and a willingness to learn about public procurement and gain experience by competing for contracts. The supports are there and here we find out more.
SMEs are major employers within the economy and when they win work through public procurement it can have a significant impact on their business including the ability to take on new staff or invest in systems and premises. SMEs are also well-represented across the country and so offer an opportunity to support economic development in a wide range of communities. "Ireland's access to the wider European market of public spending also represents a considerable export opportunity," the spokesperson for the Department of Public Expenditure and Reform says, "and we are confident that if SMEs succeed in winning work here, they will be better prepared to bid for more work abroad. Greater engagement by SMEs also opens the State up to the innovative solutions that these businesses may offer.  Finally, SMEs bidding for work fosters ongoing sustainable competition within individual supply markets."
OGP Assisting SMEs
Public bodies in Ireland spend €12 billion in a year on goods, works, and services.  Public spending across the European Union represents a wider market worth €2 trillion.  These are significant opportunities for Irish business and we are told the Office of Government Procurement is keen to support SMEs to access these. Some of the steps the OGP has taken to improve SME participation in public procurement include:
•  Breaking down tenders by lot, so that companies can compete in smaller geographical areas, or in areas of specialism,
•  Reducing turnover and insurance requirements to proportionate levels that     reflect the scale of the contract to be awarded,
•  Publication of guidance for contracting authorities in setting appropriate criteria when procuring works contractors under the Capital Works Management Framework www.constructionprocurement.gov.ie
•  Introducing an option for contracting authorities to tender specialist works sub- contracts directly,
•  Reducing the level of risk that main contractors are expected to carry under the public works contracts,
•  Encouraging businesses to form consortia so that they can compete with the sum of their strengths,
•  Building the capacity of businesses to compete for public contracts through events such as Go2Tender and Taking Care of Business.
New initiative to explain public procurement
The Government is committed to further promoting SME access to public procurement opportunities. To this end, Minister of State, Patrick O'Donovan TD, works in partnership with an SME Advisory Group with representatives from the OGP, Department of Business, Enterprise and Innovation, InterTradeIreland, Enterprise Ireland, the Competition and Consumer Protection Commission, Ibec, ISME, SFA, Chambers Ireland, and the Construction Industry Federation.
A recent key recommendation of the Group was to have better communication to SMEs about the opportunity that procurement represents. In response, the OGP have developed a series of breakfast briefings, delivered by their partners in InterTradeIreland, which are currently being delivered around the country. The briefings are supported by a range of videos explaining public procurement in plain English that can be accessed from the OGP website. The spokesperson says: "More videos like these will be made over time and they will explain in greater detail how businesses can register on etenders.gov.ie to find out about opportunities and some practical advice about making bids."
Awareness of the Opportunities
In Ireland, it is policy to advertise public tendering opportunities on all works projects valued in excess of €50,000. "This is a relatively low threshold when you consider, for example, the cost of constructing a single house," the spokesperson tells us. "On average, approximately 50% of all works contract notices published on eTenders every year are for projects with a value less than €500,000.  What this means is that the majority of publicly funded construction projects are advertised and there is a high level of awareness of this opportunity in the sector."
For many SMEs, however, even if they are aware of the opportunity, they may be discouraged by the process involved in preparing a bid. Feedback the OGP received from suppliers, however, suggests that once they have undertaken the process once, it becomes easier on each subsequent engagement because a lot of the documentation required will have already been compiled.
Smaller firms don't always have to undertake the work of entering competitions alone.  Consortia of firms can come together to meet the criteria for a competition. The spokesperson says, "There were a number of examples of this on the recent framework for architect-led design teams for the delivery of social housing. And even when a large firm does win, it can create opportunities for smaller businesses in the supply chain.  Projects such as the National Children's Hospital and the social housing PPP have organised Meet the Buyer events where smaller firms have an opportunity to become involved in supplying to lead contractors."
The OGP is also making improvements to its systems to try and reduce the administrative burden for firms seeking to tender. This includes moving more processes online and increasing use of self-declaration as part of the up-front submission requirements. Evidence is only sought in support of the declarations at the point of award or, in the case of the restricted procedure, at the point of shortlisting prior to being invited to tender.
Tendering opportunities for SMEs typically take one of two forms, either through the creation of a framework or a direct tendering opportunity. Where there is a repeat requirement for a particular service, but the exact need is unknown, a framework may be put in place. These provide an umbrella agreement with one or more suppliers who can meet the broad specification of the requirement. An initial procurement process is run through eTenders to establish the framework. Suppliers compete for a place on it and, if successful, become framework members. A recent example of a framework is the agreement for the delivery of rapid delivery housing, procured in support of Rebuilding Ireland, whereby Local Authorities can procure solutions for individual housing projects through mini-competitions.
Outside the goods and services that are covered by frameworks, direct tendering opportunities are competitions that may be advertised by a wide range of public sector bodies, including the OGP, on eTenders.  These cover the whole range of public buying from landscaping projects up to large-scale infrastructure projects.
"SMEs that are interested in exploring all of these opportunities can register online to receive alerts about competitions of interest to them," the spokesperson informs us.
Ross McCarthy, Owner of Keystone Procurement
Ross McCarthy is Owner of Keystone Procurement, an advisory services company specialising in advising SMEs and Buying organisations (public, private and social enterprises) on procurement related matters. Keystone owns and runs the Sluamor website, a portal dedicated to facilitating consortium development in Ireland and overseas.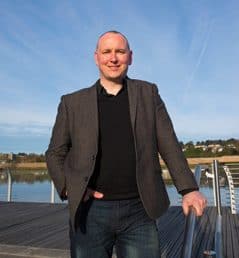 We ask Ross if Construction SMEs are aware of the opportunities in Public Procurement. "Passively, yes," he tells us. "There is widespread passive awareness of the opportunities in public procurement but active awareness is higher in certain categories. For instance, in our experience road surfacing, glazing, plant hire, facilities management and professional design services companies working on new builds or on the maintenance cycle are highly aware. As you go towards other sectors like building contracting services and trades, the knowledge and interest levels vary a good deal."
What is available to Construction SMEs to compete for? "There are a wide range of opportunities available to SMEs from smaller jobs on refurbishments or general maintenance up to large-scale commercial projects. Smaller projects require skills that sole traders or smaller operators are well suited to take on," he tells us. "This could include, for instance, maintaining the heating system for a large commercial building. These contracts can be worth tens of thousands of euro annually. There could be painting jobs above and below this level or electrical, plastering or similar trades based works required above and below the full tender threshold (this stands at €50,000 for works contracts). Above this level, there are large projects available for main building contractors and design professionals to name a few. Most of these are SMEs hiring SMEs. There are also opportunities for all these companies at the sub-contracting level through existing relationships that they may have where they win work through private sector relationships (competitively) but are ultimately paid via public funds."
Greater Competition by SMEs
Ross thinks there could be greater SME participation in public tendering. "We interact regularly at events like Go2Tender with representatives from the OGP and in our own work with Buyers in the private and public sectors," he explains. "While it can be easier in the private sector, in a recent private sector contest we ran, we ultimately got about 25% of the companies we approached to sign a non-disclosure agreement to receive the tender document and a little over half of them submitted bids by the end of the process." He believes this shows that when the private sector is busy, the incentive to bid for public or private projects can drop significantly. "In this context, we think it important that public buyers consider open book tendering as a tool to increase bids from SMEs," he states. "Being overly discreet about budgets can contribute to inertia on the part of SMEs bidding for work in the public sector. While indicative spend levels are provided occasionally it is far from universal. It can be more effective to tell the market what you have to spend and see what they come up with. We would see this as being particularly important below the works threshold and then a tactic that can be considered on a case by case basis above this level. The more routine the category, the more suitable it could prove in manufacturing enhanced demand for Buyers."
There are also international opportunities he says, but not for everyone. Professional services linked to construction have international opportunities on an ongoing basis. "This can arise in the commercial, public and economic development areas. Suppliers of specific materials like pre-cast concrete, water/sewerage systems etc. also have significant opportunities," Ross explains. "There are also opportunities for many large Irish construction companies with turnovers under €50m per annum (the approximate cutoff for the SME definition in the EU). A strong path to diversify internationally is through economic development work paid for by organisations like the European Commission, the World Bank etc. as companies can build international experience without the risk of not getting paid."
Challenge and Opportunity
The challenges for Construction SMEs are the same as with all other SMEs but Ross says the attitude can be more "bloody-minded" in construction! He describes the realities: "On the buy side, instances, where very legalistic documents have been issued to put panels in place for trades may not be attuned as they could be to the category they are seeking to buy from. Construction is a physical activity that is mostly offline. Ninety pages of very formal documentation when the main requirement may be as simple as a charge per hour and compliance documentation is alienating. The requirements of suppliers should encourage participation rather than depress the motivation to participate. Many good, reputable suppliers are working 18 hour days Monday to Friday and a full day on Saturday. Will they spend hours completing the forms if they are designed to suit the buyer rather than the supplier? A balance can be achieved without diminishing good governance standards."
Ross tells us there are lots of opportunities for Construction SMEs, and that they can compete once they work through a short learning curve and are very competitive. "The companies still, often, need assistance getting their heads around the forms but once they have done a few and understand what they need to do to be competitive, the hungry firms will compete. Not every company is hungry enough to go after work that is harder to win. This is survival of the fittest and competition at its purest. In many parts of Ireland, there are no bids received for work when it is tendered. So the question becomes, do you know what you are missing out on?"
Encouraging SME Participation
A lot is being done to encourage SMEs to bid for public contracts. "While one can always do more, by advertising, highlighting etc. we can't force SMEs to bid," Ross states. However, he thinks there is only so much that can be done on the Buyer side. "My line on this is quite straightforward and most SMEs find this quite persuasive," he says. "Many SMEs have contacted a bank or a state development agency looking for a loan or for funding. They normally have to complete extremely long, detailed application forms and often have to supply business plans and all kinds of attestations and certifications before an application is even accepted. This being the case, I see very little difference between winning a €100,000 contract through procurement bureaucracy or obtaining a €75,000 loan from a bank."
This is the way procurement is going to operate for a long time he believes, explaining: "It is unlikely these procurement directives will be revisited for at least a decade. Companies that do not bid are missing a trick. So my message to an SME is simple and clear:
•  The State has money and wants to buy from ambitious, driven companies that will deliver value for money on its projects;
•  If your company has a strong record of delivery, public contracts offer a buffer against recessions;
•  If not you, then who? The contracts you leave on the table are being picked up by businesses that may be less able or capable than you; and
•  Finally, having State contracts is a quality mark for your company. Most people in industry know that winning State contracts is more complex and objective than private sector work. They can be worth their weight in gold for winning further work in the private sector as they put you in a different league from private sector only operators and can professionalise the external perception by third parties of your business."
Advice and Training for Bidding
Ross recommends companies attend specialist courses where they get advice on procurement for the sector. General tendering programmes like Go2Tender by IntertradeIreland suit companies on the design side of the sector. "They also suit companies that have to routinely prepare and submit bid documents with large quantities of compliance criteria," he explains. "Others that have more straightforward requirements for bids (hourly rates and some compliance forms) may be better suited to approaching their local enterprise office for advice and assistance. There are mentor panels that can assist although this very much depends on what is available at a local level. Further to this, there are Skillnets like the ISME Skillnet who organise support based on demand so if SMEs are members of organisations like ISME, they can ask their Skillnet to organise advice or a course around (for instance) plumbing, plastering or road surfacing tenders."
Often Ross hears SMEs say they are too small to win. "That isn't the case at all," he states. "Consortiums (where you join forces to become a bigger company for the purposes of winning work) are encouraged by procurement professionals. They often result in better outcomes for buyers and speaking personally, consortiums have been absolutely key to the growth of my business – some are strategic and multi-annual, others shorter term and tactical but all very valuable and useful exercises – for us and for our customers."

SME Supports: ISME and Other Organisations
There are supporting organisations for interested companies. ISME is Ireland's largest independent voice for SMEs across the State and Ross is on the ISME National Council. "We have in excess of 10,500 members covering every conceivable type of business," Ross says. "ISME represents SME Ireland in the political corridors of power on policy matters and provides advice and services to members. We are currently campaigning on a wide range of relevant issues including Brexit, insurance costs, the rise in general business costs, labour law, minimum wage changes and much more besides."
Outside of general policy and advocacy, ISME offer HR advice and advice on general business queries through the ISME helpline every day. ISME operates a Skillnet which can be used by members (and non-members) to access great value for money training courses. The training schedule is available on the ISME website at any point in time. There are also affiliate schemes offering ISME members benefits. These schemes cover light, energy, insurances, pensions, IT, telephony and much more besides. "We also have a vibrant business to business marketplace which we use to promote intra-member trade," Ross tells us.
There are private consultancies offering their services to SMEs. Ross's business Keystone Procurement is a consultancy focused on procurement and commercial advisory services, specialising in working with SME businesses. "We work on both the Buyer and the Supplier side of the transaction relationship and have rapidly built our company's profile and reputation since we were established in 2014," Ross says. "Our core services include:
•   Procurement advice and support;
•   Tender advisory services;
•   Bid management;
•   Training and development.
Keystone's technology subsidiary, Sluamor.com is a marketplace where SMEs can express an interest in developing consortiums and meet potential partners to bid for work with.
Ross recommends SMEs check out the OGP procurement seminars or the Go2Tender seminars that they undertake with their delivery partners Envision on behalf of the OGP and IntertradeIreland respectively. All details are on www.intertradeireland.com – Ross concludes, "It is the best place to start your journey towards success in tendering."
The contents of this site are subject to copyright laws and may not be reproduced in any form without the prior consent of the publishers. The views expressed in articles do not necessarily represent those of the publishers.