Neolith® used for ventilated façade in pioneering Hudson Lights project
Neolith Strata Argentum, Pierre Blue, Iron Corten, Calacatta, Estatuario and Nero Zimbabwe have been specified by US Architects, Arquitectonica, for the façade of pioneering mixed-use development Hudson Lights, in Fort Lee, New Jersey.
Hudson Lights, which sits a stone's throw from the famed river for which it is named, deftly combines retail and residential. Comprising a mall, onsite parking and 300 flats over 12 stories, this bold new development offers a refreshed perspective of Manhattan from the Jersey Shore.
During construction in 2016, careful planning went into choosing the most appropriate material for Hudson Light's façade.
Initially Arquitectonica proposed everything from copper and marble through to granite and wood. They sought natural aesthetics, exploiting material contrasts for maximum visual appeal. However, concerns over long-term upkeep costs associated with the aforementioned substances, especially when used on an exterior in a busy, metropolitan area, inspired the architect to look further afield and towards Neolith.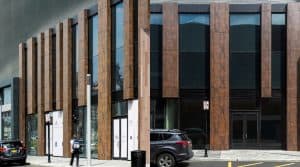 The Sintered Stone's ability to mimic the characteristics of the genuine material while offering a low-maintenance solution to Arquitectonica and their client. In short, it fitted the brief with minimal compromise and no disruption.
2,350 m2 of 6mm Neolith was used for the ventilated façade. Neolith's UV resistance and waterproof quality made it a natural choice in a state that receives rainfall levels higher than the national average.
Another cost-efficient design element was to use an installation system for the ventilated façade that would be completely invisible.  With Neolith offering its own proprietary cladding system, StrongFix, Arquitectonica was able to create sleek looking, sturdy and secure façades. StrongFix is an ICC-certified fixing system and enables architects to specify 6mm panels.
Commenting on Hudson Lights, Arquitectonica's Jooyeol Oh said, "A number of factors including longevity, maintenance, consistency and style were considered during the selection process. Crucially, we also specified a list of banned materials, the project had to communicate aspiration, an attractive building in a sought-after location. It was essential to ensure the structure did not look like a cheap strip mall in small town suburbia. Since Hudson Light's completion two years ago the façade has stood the test of time."
He adds, "I actually live near the building complex and drive past it regularly, it still looks great. The US market is always a little apprehensive when it comes to something new, however we foresee that Sintered Stone will become more prolific in the construction sector in the coming year. It's sustainable, durable and easy to maintain."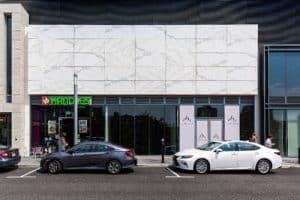 The Neolith® brand is the outcome of the latest research and development processes in the industry. The product is 100 percent natural, composed of raw material – clays, feldspar, silica and natural mineral oxides, and is recyclable.
Neolith® has near-zero porosity, making the product hygienic, stain resistant, easy to clean and impervious to chemicals. The product is also wear, scratch, heat resistant and its colours, being natural base, do not vary when exposed to UV rays. Additionally, the product is lightweight and easy to install, making Neolith suitable for virtually every indoor and outdoor surface.
Headquartered in Castellón, Spain, TheSize was founded in 2009 with the objective of creating a new material category suitable for exterior and interior construction: kitchen and bath countertops, furnishings, flooring and facades. In 2011, the Neolith® brand was launched as high-end compact surface with revolutionary physical and technical features. A term meaning "new stone," Neolith® combines the best natural raw materials with state-of-the-art technology to create a high-tech slab.
Neolith's® product is created through the company's proprietary sinterization technology, exposing minerals and other raw materials to extremely high pressure and temperature (over 1200 degrees Celsius/2200 degrees Fahrenheit), resembling the way natural stone forms over thousands of years, in just hours. The process gives the product outstanding physical and mechanical properties in terms of compaction, resistance and durability.
The various style collections are a result of Neolith's® innovative Digital Design (NDD) decoration technique. This system has revolutionized Neolith® patterns and is pushing the boundaries of what colours and textures are possible from compact surfaces.