An Taoiseach Leo Varadkar and Tánaiste Frances Fitzgerald Officially Open LinkedIn's EMEA HQ
An Taoiseach Leo Varadkar and Tánaiste Frances Fitzgerald officially opened LinkedIn's new 17,650 sq m Europe, Middle East and Africa (EMEA) HQ at Wilton Place in Dublin today.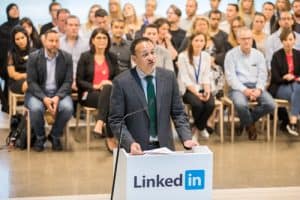 The new building is the first that LinkedIn has built outside the USA, and is the result of an €85 million investment. The development was undertaken in order to meet the needs of LinkedIn's growing workforce in Ireland, which has increased from three employees to 1,200 in just seven years.
Speaking at opening ceremony, an Taoiseach Leo Varadkar TD said: "This new EMEA HQ is the first such building outside the United States for LinkedIn and is a strong endorsement of the Government's economic and job creation strategy because it reaffirms that Ireland is the perfect location for investment.
"When LinkedIn first came to Ireland in 2010 we were in the middle of one of our darkest periods economically. But today, thanks to the sacrifices of the Irish people and the policies pursued by the Government, our economy has recovered, and we are now facing the future with renewed confidence. Over the last seven years, the LinkedIn workforce here in Dublin has grown from just three staff members to 1,200. Indeed, LinkedIn's belief in Ireland as a location for investment has contributed to our economic recovery.
"As a committed member of the Eurozone, we have a highly-educated English-speaking population and a business-friendly environment. The Government is committed to maintaining our stable and competitive corporation tax regime and our strong incentives for research and development so we can continue to  attract and retain inward investment and create high quality jobs."
An Tánaiste and Minister for Business, Enterprise and Innovation, Frances Fitzgerald TD added: "I'm hugely impressed with the accelerated growth of LinkedIn since locating here in Ireland seven years ago. The Government and the agencies in my Department are working hard to keep up and continue to attract highly innovative and high quality foreign direct investment. LinkedIn is now one of Ireland's leading technology employers, with employees from 55 nations which reflects the diversity that Dublin has to offer. I look forward to our mutually beneficial relationship continuing to develop in the years ahead."
Sharon McCooey, Head of LinkedIn Ireland, commented: "With our new EMEA HQ in the heart of Dublin, we have an office that we are proud to call home, and we are honoured that An Taoiseach and An Tánaiste were able to join us for this landmark moment for our growth in Ireland. The level of our investment reflects our commitment to Ireland and the great work our amazing team in Dublin does every day."
Martin Shanahan, CEO IDA Ireland, added: "LinkedIn's ability to grow its team in Dublin at such an impressive rate in recent years is a great endorsement of the talented workforce in the region. The significant investment in the construction and fit out of this new EMEA HQ is a clear demonstration of LinkedIn's long-term commitment to Ireland."
Linkedin's Dublin operation serves the entire EMEA region supporting customers and members across two continents. The workforce includes people from 55 nations, in functions including sales, marketing, customer service, finance, analytics and engineering. LinkedIn is continuing to hire in Dublin, with more than 70 jobs currently advertised.
The five-storey building has been designed to create opportunities for LinkedIn staff and visitors to socialise, collaborate and exchange ideas. Some of the fantastic facilities include a music studio, a high-end gym and fitness studio, a restaurant, coffee bar, an expansive roof terrace, and a games room.
A number of Irish companies were involved in the building works, and at the height of the construction, which was completed in two years, the project saw 360 workers on site every day.
[rev_slider Surety]