High-rise, a number of major developments which will potentially change the Dublin skyline are currently in planning and at tender stage. Here we outline 3 developments to make the news this week.
'THE EXO' – Dublin's tallest office building
The construction of Dublin's tallest office building – 'THE EXO' at Point Square in Dublin's Dockland's – has moved a step closer with a tender being issued for the appointment of a building contractor
Joint Receivers Stephen Tennant and Paul McCann of Grant Thornton have today, 4 May, announced that a tender has been issued. Stephen Tennant commented saying "We are delighted to get this project off the ground and look forward to seeing it through to completion. Our first priority is to secure a main building contractor who can deliver a quality scheme on-time and on-budget."
At 73 m high, THE EXO will be Dublin's tallest commercial office building and could accommodate up to 2,000 office workers. 350 jobs are expected to be created during the construction phase which will take approximately 24 months at a cost of €70 million.
You can see the proposed development here: http://tinyurl.com/k5qfzdu
A tender has been issued for the appointment of a building contractor, and that Savills and CBRE have been instructed to seek pre-letting agreements with tenants.
 Tara House – Tallest building in Dublin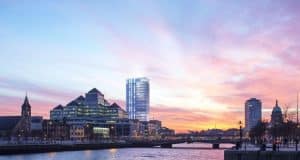 Johnny Ronan is lodging plans to build the tallest building in Dublin on a site next to Tara Street railway station. The proposed tower would be 88 m high, taller than Dublin's current tallest building Monte Vetro, the Google HQ, at 67 m in Grand Canal Dock.
At 22 storeys, in total, the 17-storey tower would stand on a 5-storey podium. This would contain a 110-bedroom hotel, with an open restaurant terrace at the base of the office tower. The scheme would provide 11,800 m2 of floorspace for its three different elements, with the top-floor restaurant and bar.
Paul O'Brien Chairman of Henry J. Lyons & Partners Architects said the design developed from a series of modelling studies over 18 months. "We went through various permutations in terms of assessing impacts on 45 key views, even though there are no such views listed in the Dublin city plan."
Source: http://tinyurl.com/n7hprl7
[rev_slider StelradBN17]
Spencer Place scheme at Spencer Dock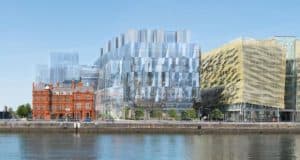 Johnny Ronan's Ronan Group Real Estate (RGRE) recently made a planning application for its proposed Spencer Place scheme at Spencer Dock. RGRE is seeking permission for the development of 66,599 m2 of space, including a 212-bed hotel, restaurant and retail units and 46,184 m2 of office accommodation.
The application is a revision of the planning permission which was obtained by the site's receivers prior to Ronan's acquisition of it. The existing permission allows for 31,580 m2 of offices and a 169-room hotel.
RGRE's development director, Shane Whelan, said: "It marks the culmination of months of positive engagement with Dublin City Council. The design has incorporated the best architectural elements from around Europe and will deliver a 211-bed hotel to compliment the 500,000 sq ft of best-in-class office accommodation.
"Spencer Place will see the completion of the original Spencer Dock masterplan which successfully delivered 2,000,000 sq ft, including the National Convention Centre Dublin, PwC, Credit Suisse buildings and 620 state-of-the-art apartment units."
Source: http://tinyurl.com/n4vo8lg
Follow Irish building magazine on Twitter: @IrishBuildingOL