St. Angela's College, Cork wins overall award at the Irish Concrete Society's 35th Annual Awards
The 2017 Irish Concrete Society's Awards Evening highlighted Excellence in the design and construction in concrete.
The event took place  on the 8th of April in Croke Park.
This was the prestigious 35th Awards Evening and the event is always one of the highlights in the construction industry's calendar with some 280 of industry's finest in attendance. The Awards recognise excellence in both design and construction in concrete and are adjudicated by an independent jury of industry professionals. The main awards jury reviewed a total of twenty-six projects nominated in three categories of main awards – Elemental, Infrastructure and Building. There were seven projects nominated for the 5th Irish Concrete Society International Award, which is sponsored by Enterprise Ireland. The winner of the annual Sean de Courcy Student Prize was also announced.
The main awards jury consisted of Frank Lee, Consulting Engineer, Peter Dudley, Scott Tallon Walker Architects and Eden Keane, SIAC Construction.
Winner – Building Category and Overall Winner
St. Angela's College, Cork
Chosen from a total of 12 category entries and 26 entries for overall award.
Jury Quote:
"The internal walls and ceilings in this building are predominantly fair faced exposed concrete. That might conjure up a cold and dark environment in many minds. Yet the head of the establishment is quoted as saying that "……the building is a pleasure to come in to. There is fun in the design. Light fills the corridors. … there are lovely social spaces." The 18m level difference between the top and the bottom of the site has resulted in a linked series of buildings which the architects liken to a "hill town".
The architects' and engineers' choice for an exposed internal structure was insitu concrete made with local limestone and cement chosen to give a light colour, while the other common local rock – red sandstone – was used for external paths and paving. The exposed concrete quality is uniformly smooth and consistent. Formwork joints intersections and shutter tie locations are all planned and executed in exemplary manner. Even a 9m high wall single pour was kept to that standard."
Project Client:             Department of Education and Skills
Project Engineer:       Malachy Walsh and Partners
Project Architect:       O'Donnell + Tuomey
Project Contractor:    L&M Keating
Major Suppliers:        Lagan Concrete / Claramore Construction
Winning Projects
Winner of the 5th International Award "Techrete for Victoria Gate, Leeds"
Project Title:                   Victoria Gate, Leeds
Irish Supplier:                Techrete
Winner – Infrastructure Award: Newlands Cross Flyover, Dublin
Project Client:              NRA / TII
Project Engineer:        ARUP / RPS / Mott MacDonald
Project Contractor:     BAM Contractors
Major Supplier:            Shay Murtagh Precast / Paul Mulcair Ltd / Roadstone
Winner – Elemental Category: Feature Stairs and Gallery, Donegal
Project Client:                 Private
Project Designer:           Michael McBride Architectural Services
Project Engineer:           Carr & Company Civil Engineers
Project Contractor:        Denis Diver
Major Suppliers:            Muckish Sand & Gravel / Noel & Stanley Tease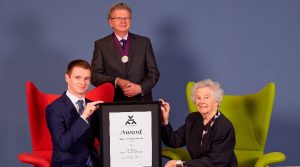 Sean De Courcy Student Award
Winner:  John Reddy, Queen's University Belfast
Project title: Thermal Activation of Low Carbon Precast Concrete
Kristin Sophia Kuckelkorn, Trinity College, Dublin received a high commendation for "Heat discharge through forced cooling of phase change materials in concrete panels"