Peter McVerry Trust and CIF launch initiative to house the homeless
The CIF and Peter McVerry Trust have launched a collaborative partnership aimed at supporting the trust's efforts to house the homeless. Throughout 2017 the CIF will encourage its members to lend their resources and skills to Peter McVerry projects around the country.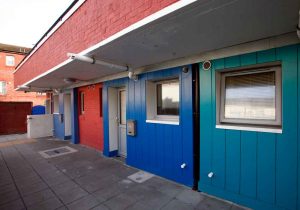 Speaking at Hogan Court, a complex that the CIF and Peter McVerry Trust refurbished delivering homes for 12 individuals last year, Pat Doyle CEO of PMVT stated, "What we're standing in front of is evidence of effective collaboration between industry, NGO and the community here in Hogan Court. 12 vacant houses were transformed into homes in 2015. 12 people left homelessness and became tenants of Peter McVerry Trust. The community welcomed their new neighbours and benefitted from works in the public spaces around the complex.  Peter McVerry Trust is engaged in similar projects around the country most recently securing a site in Limerick City. We're working hard to help those who need it the most. We hope that this successful and very worthwhile initiative will encourage CIF members to lend their experience, time and labour to transforming our projects into homes and communities."
CIF Director General, Tom Parlon said, "The success of the Hogan Court estate is one of the proudest achievements of the CIF's history. Some of the people housed in Hogan Court were homeless for decades after significant personal tragedies and are now fully integrated into one of Dublin's great communities. Our members contributed over €7million in labour and materials throughout 2015. We're hoping now to support the Peter McVerry Trust's valuable work across Irish communities. The Hogan Court initiative demonstrates the kind of impact the industry working with the Trust can have. That's why we're seeking to create more collaborations between our members and the Trust across the country. There are thousands of construction related companies around the country and we're encouraging our members over the course of this year to make contact with the Trust to see if they can make a difference and support its vital work."
Also in attendance was CIF President, Dominic Doheny, ""The work that has been carried out at Hogan Court is a testament to the generosity of our members with over €7million in labour and materials donated over the course of a year. The residents of Hogan Court, who have been through so much, deserve this opportunity to live in a safe, comfortable and healthy environment. I am very proud that the CIF has stepped up to the plate in this way and we will continue to collaborate with the Peter McVerry Trust to enhance the lives of many others affected by homelessness in the future."
The Peter McVerry Trust is currently progressing building projects in Dublin, Kildare and Limerick. These projects play a critical role in working towards their strategic objective of providing 450 housing units to vulnerable homeless people. Peter McVerry Trust and CIF will collaborate on maintenance and upgrade of existing properties, the renovation of new properties for the purposes of housing units (and in some cases emergency hostel accommodation) and on capital projects. The Peter McVerry Trust is now engaged in a series of major capital projects. These projects are put out to public tender and Peter McVerry Trust will, through the CIF, circulate details of the competitions to its members when they arise.
Pictured above: Veronica Gaffney, Pat Doyle , Fr Peter Mc Very Trust, Frank Kelly, Walls Construction and Tom Parlon Director General, CIF.
[rev_slider Surety]