DPS Group expand into the UK Market, acquiring Alban Technical
DPS, a leading Irish Project Management and Engineering Company serving industry around the world for over 40 years, is expanding into the United Kingdom with the acquisition of Alban Technical Recruitment.
With offices in St. Albans and Macclesfield Alban and provides contract engineering personnel for the pharmaceutical, medical device and microelectronics industries in the UK.  No acquisition terms have been disclosed.
DPS CEO Frank Keogh said: "We have a substantial professional outsourcing business in Ireland, Mainland Europe and the United States and expanding into a large market like the UK is a logical step."  Keogh explained that the expansion of the professional outsourcing business in the UK will be followed by establishing an engineering and project management business in the UK, focusing on the pharmaceutical, life sciences and advanced technology sectors.
"It has always been part of our long-term strategy to establish a presence in the UK."  elaborating by saying that DPS had been looking for the right opportunity to enter the market long before last year's Brexit vote and added: "We are delighted with the opportunity to have an established presence in the UK, before the conclusion of Brexit and the UK exit from the EU in 2019."
"Alban is a very successful professional outsourcing company and some of its key people have been involved in engineering recruitment for more than 25 years.  We look forward to working with Gary Smith and his team at DPS Alban Technical Ltd., in building up a more significant professional outsourcing operation in the UK in the years ahead."
DPS currently employs over 800 people at its six office locations and serve a broad range of clients ranging from multinational companies to small generic producers.  Providing Full Service Engineering for its clients including Project and Programme Management, Procurement, Design, Construction Management, Health & Safety Management, Commissioning,  Qualification, Professional Outsourcing and Start-up on global projects across a range of market sectors.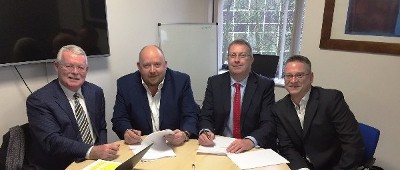 Pictured L-R: Tony Mahon, DPS Managing Director CS Europe, Gary Smith Managing Director CS UK DPS Alban Technical, Eddie Kent, CFO DPS and Dave Cattell Area Manager Director of DPS Alban Technical.