Biopharma Engineering marks a decade of success
Biopharma Engineering (BPE), the engineering design firm, are celebrating a decade of growth and success this month.
Having recently announced 70 new jobs and a new Dublin office, the privately-owned firm has experienced exceptional growth and boasts a client list of global leaders in pharmaceutical and bioscience manufacturing.
Speaking at the Biopharma Engineering team celebrations in Cork, Director and Co-Founder John O'Reilly said: "We are excited about what we can achieve in the next 10 years of business. I have no doubt that we will continue to surpass the needs and expectations of our clients and continue to deliver the highest quality engineering design solutions – something our clients have come to expect from us."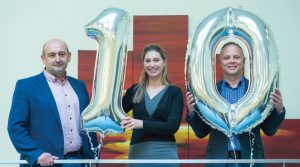 Biopharma Engineering, which employs 80 people and has its headquarters in Cork, was founded 10 years ago by John O' Reilly and Richard Holohan. BPE has a client portfolio of leading global pharmaceutical and bioscience manufacturing giants, serving the niche industry with experienced personnel and process led technologies.
"Over the past decade we have delivered capital projects worth more than €500 million for our clients. In the last 18 months, we have doubled our workforce and invested significantly in software and systems to serve the needs of our growing customer base. We are ambitious for our clients and for our company and I am delighted to celebrate 10 successful years in business today with our dedicated team," added Director and Co-Founder, Richard Holohan.
Biopharma Engineering are currently recruiting for several roles in both their Cork and Dublin offices. The offices are located on Willow Road, Dublin 12, and in the NSC Campus in Mahon, Cork.
[rev_slider Stel]