PM Group to recruit 500 Graduates
PM Group has reported operating profits of €10.9 million for the year ended 31st December 2015.
This represents an increase of 21% on the prior year's record performance. Turnover for the year was €297 million, down from 2014 – due to a reduction in construction "pass through" revenue on 2014. Trading improved year on year, with a 3% increase in underlying fee revenues.
PM Group has also announced that it is recruiting 500 graduates over five years as part of its Strategic Plan and to support its growth trajectory. The jobs, over half of which will be sourced in Ireland, will be across all engineering disciplines, as well as architecture, environmental, construction and project management. Recruitment has already commenced.
Strong operating profit of €10.9 million, up 21% year on year
Group revenue of €297 million and pre-tax profits of €12.6 million
Strong balance sheet with net assets of €42 million
Group now 100% owned by employees, following acquisition of minority shareholding
500 graduates to be recruited over 5 years 2016-2020 (250 of whom will be in Ireland)
"I'm pleased to report another year of progress for PM Group, with an increase in underlying revenue and operating profit and I'm delighted to announce that we have embarked on a significant graduate recruitment drive to fuel future development,"  said Dave Murphy, Chief Executive of PM Group.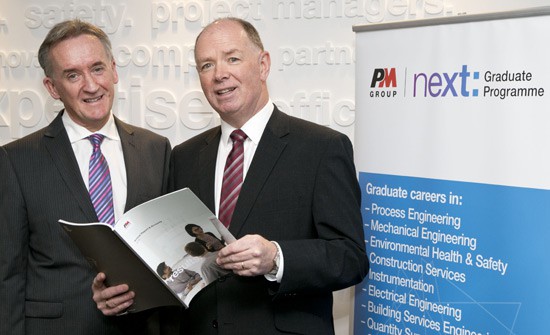 "Last year, we rolled out a five year strategic plan, the key aim of which was to build our business in established core sectors and regions through improvements across our delivery platforms and business processes. The 2015 performance is testament to the endeavours of the 2200 people working in PM Group across multiple offices and projects in Ireland, the UK, Europe, the US and Asia. PM Group is trading steadily in 2016 to date and we are targeting an operating profit out-turn for the year similar to that achieved in 2015," Dave Murphy continued.
PM Group Chairman, Dan Flinter said: "A particular highlight in 2015 was the acquisition, using Group resources, of the 24.6% shareholding owned by AMEC Foster Wheeler. The outcome of this initiative means that PM Group is now 100% owned by our employees. This underpins a culture of enterprise and a constant drive towards professional excellence.
"As we pursue our business strategy, it is essential that we continue to attract the top talent across all disciplines who are interested in working on leading edge projects for international clients here in Ireland, and across our overseas markets. It is a mark of our ambition that we are recruiting 500 graduates,"  he continued.