'Leaders in Construction' Sean Smith, MD, Leo Lynch
Sean Smith, MD of Leo Lynch on why a company's greatest asset will always be their workforce.
"Our founder, Leo Lynch was 90 years of age when he passed away and he really knew his people. We see our employees as our most valuable asset, and it can be seen in the multigenerational work force that we have here at Leo Lynch."
Irish building Magazine is speaking with Sean Smith, Managing Director of Leo Lynch and past president of the Mechanical Engineering and Building Services Contractors' Association (MEBSCA) about what it takes to succeed in an ever-changing industry.
"One of the biggest industry challenges at the moment is the speed at which our clients require results," he explains from his office in Dublin's Fonthill. Speedy turnaround times are particular to the pharmaceutical industry, he says. "These companies are under extreme time pressure to produce their product and bring it to market before one of their competitors launches a rival product, and we completely understand where they are coming from. The solution is to have a workforce that is as highly skilled and trained as possible in all of the latest technologies, and that's what we provide."
A full service company, the Leo Lynch Group encompasses Leo Lynch Engineering and Interact, specialising in the provision of complete Facility Support and Building Fabric Services for the built environment. "Both arms of the company feed off each other," says Smith. "Clients are often very enthusiastic about continuing on with our maintenance company once they have finished a build project, so it works very well for us." Leo Lynch's client-centred approach to project execution can be seen in its extremely prolific client list, some of whom they have worked with for twenty years or more. From Diagio and Glanbia to Pfizer and the HSE, Leo Lynch is synonymous with offering a stellar service on projects that are delivered to the highest standard.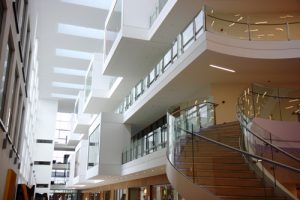 Smith cites the UCD O'Brien Centre for Science as one of the projects he is most proud of in recent years. This re-development and expansion was a 75.5 41,000 m2 project involving the refurbishment of existing Science Buildings, new build of further blocks and overall integration to one building to BREEAM 'Excellent' Rating.  A signature element is design of the new atria to fully integrate four of the original Science Buildings with the new build. Some of the key features of the sustainable design and construction were Tri-Generation, extensive Heat Recovery and LED lighting. "The project was valued at €23,500,000 mechanical engineering contract, and its results are incredible," says Smith. "It was a great example of what we do here."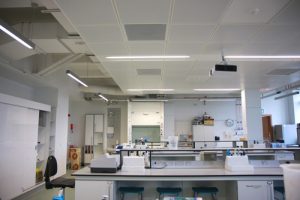 Leo Lynch Engineering prides itself on acting as a leader of industry when it comes to technological advances, and BIM and Lean construction are no different. "There is no doubt that BIM is part of the industry now, and we have to get on with it," says Smith. "Before BIM we had AutoCAD, and we will have something else that comes along after BIM – it's the nature of technology. The great thing about the technologies that we have at our fingertips now is the speed and accuracy with which they work."
Of course, this was not always the case, according to Sean Smith. "Fifteen years ago, the accuracy of BIM was nothing compared to the way it is now. Today, BIM provides the accuracy that our clients demand at an early stage of development, and without question. It allows for speed and it breathes trust into a relationship. There are no places for delays in today's climate, that's for sure." Smith points to 3D modelling as the latest client requirement. "It is really amazing in terms of accuracy, and to be able to identify any issues before the build has begun is priceless in terms of our industry."
Leo Lynch is well regarded as being one of the best employers in the industry, and it takes its role extremely seriously. Their health and safety philosophy is one that has been honed and is re-examined regularly. The philosophy is centred around the idea 'work safe and go home safe.'  "Health and safety has always been of extreme importance to us here at Leo Lynch," says Sean Smith. "About two years ago, we re-examined our policy when we realised that some of our staff were perhaps a little too relaxed about policies on site. We have no problem closing sites that we feel do not meet the health and safety standard we require, and we have done in the past. There is no option, ever, for us to allow or enable our workforce to work in an unsafe environment."
This sentiment is one that is carried across the company. "The worst thing an employer ever has to do is make that terrible phone call to say that someone's husband or someone's son has been hurt or worse on site," says Smith. The company instigated a behaviour based safety programme on all of their sites. Behaviour based safety is closely linked to company culture and values, and when it works (as seen at Leo Lynch), it is an excellent tool to improve safety performance in the workforce. "Our health and safety approach puts the onus on everyone; from the apprentices to the managers on site," explains Smith. "At the beginning, we weren't sure how the lads were going to take it, but it has been very successful and everybody feels responsible about keeping everyone safe. It has made the company work together, and that's a great thing."
The skills shortage is something that Sean Smith and Leo Lynch would like to see addressed by the new government. "We employ people across the board, from those who have qualified in a highly skilled field to apprentices, and it is hard to find the manpower," he says. "In the lean years, the newly qualified construction workforce emigrated and about five year's later, it's people with their experience that we need now. Here at Leo Lynch, we believe that by putting our new hires in the deep end, we immerse them with experience from the get-go, but it is no substitute for experience."
During the recession, Leo Lynch maintained a workforce of over 300 people, by taking a hard line of pay cuts to preserve jobs – something that was supported on the whole by their staff.  This, along with their Foreign Direct Investment clients, and their maintenance and facility support company Lynch Interact, resulted in the company maintaining an even keel during the years that devastated some of their contemporaries. Their success, says Sean Smith, is all down to their workforce.
"I have to say that I am most proud of our employees here at Leo Lynch," he says. "Since it was founded in 1956 it has focussed on hiring people who are the best at what they do and giving them the training that they need in order to progress in their career. This success can be seen in the multiple members of one family we might employ, or the people who come to us newly qualified, and are still here, twenty year's later. We believe that the success of a company is interwoven with its employees, and I think that we achieve that here, with a highly skilled and highly motivated workforce that delivers world-class projects to tight deadlines." As an industry leader that has weathered the storm of our economic downturn with grace, Sean Smith and the Lynch Group are a shining example of a company which refused to abandon it's employee-centric ethos when times got tough, and are now reaping the rewards.
This article first appeared as part of the Irish building magazine 'Leaders in Construction' interview series 2016. Click here to read the entire issue
The content of this site is subject to copyright laws and may not be reproduced in any form without the prior consent of the publishers. The views expressed in articles do not necessarily represent those of the publishers.