'Leaders in Construction' Fergus Frawley, Kirby Group, Managing Director
Focused on the future
Established in 1964, Kirby has grown from a small, family-owned electrical contracting business to a respected, international, multi-disciplinary, high-value engineering and construction specialist.
The firm has seven offices across Ireland, the UK and Europe and employs over 600 personnel. Turnover in 2015 reached €150 million, with the firm expecting to exceed this figure in 2016.
Kirby offers a variety of services including mechanical piping, HVAC, electrical and instrumentation, electrical transmission and distribution, turnkey solutions and design and engineering. Sectors in which the firm operates includes industrial manufacturing, biopharmaceutical, medical technology, utilities and renewables, power generation, food and beverage and petrochemical.
Fergus Frawley is Group Managing Director at the firm. "We've had a very successful number of years but we don't define success by our turnover; our company is built on a family model so we see training our people as the key to our success." 2015 was a particularly strong year for Kirby. "We experienced growth across all aspects of our operations. We invested in graduate talent with the launch of our new graduate programme which saw the creation of 15 new positions for newly qualified engineers across Ireland and the UK." Fergus says a significant number of staff at Kirby would have started their career at the firm as apprentices. "Some people who left us are now returning, I think the confidence is definitely returning to the construction market. In saying that, the key challenge going forward for the sector is to train the required number of specialist construction professionals to serve the industry in the future. A coordinated and planned apprenticeship program is key to the industry's continued growth."
Fergus says the firm let very few people go during the recession. "Those key members of staff have now become senior managers. Our business has thrived; we're extremely lucky with the quality of our staff and we intend holding onto them."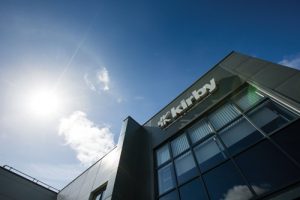 During the downturn, Kirby worked hard at growing the business and placed a strong emphasis on developing its international operations. This strategy allowed the firm retain and hire people when a lot of companies were announcing redundancies and layoffs. The company's apprenticeship programme, an integral part of the business for over 50 years, never stopped operating and it was these strategies that somewhat sheltered Kirby from the current skills shortage. "We're not resting on our laurels; we know that to meet future challenges and opportunities, we must continue to develop and grow our people."
In 2008, Kirby opened its first international office in London. Since then, the firm has experienced significant and sustained growth in its operations domestically and internationally, with Kirby's UK operations now accounting for over 35% of overall company turnover. These last few years have also seen the company establish a strong foothold in the UK pharma and data centre sector. Initially, the company entered the market primarily to serve the power generation sector but with its business there developing over time, the firm now provides complex multi-disciplined services and turnkey solutions to clients including Hexcel Composites, IBM etc. "Our business with GSK has been particularly significant. We've been involved in all recent GSK project investments in the UK." Kirby is also currently working on the second largest wind farm in Scotland which should complete early next year.
In 2014, Kirby opened an office in Brussels to manage and expand its operations in Northern Europe; this office is now beginning to reap dividends for the firm. In 2015 Kirby was contracted by NesteJacobs to provide controls/instrumentation services on a large refinery shut-down project for Neste Oil in Finland. "We continue to see a strong pipeline of opportunity across the region, in Germany and Switzerland in particular but also in the Nordic region."
Fergus says the business environment for Kirby across all geographic regions is positive for the next 12 months. "The Irish market is benefiting from large scale foreign direct investment within the bio-pharma and data centre sectors. We possess significant technical capabilities in the niche bio-pharma area so we feel we're well positioned to take advantage of this change. At the moment we're providing mechanical and electrical services for two large scale bio-pharma investments – Regeneron in Limerick and Mallinckrodt in Dublin. We're also delivering large scale data centre projects for IBM, Interxion and ACI. All of our projects have their special characteristics and challenges but one notable 'special' project we are currently involved in is the complete re-development of Adare Manor in Limerick." 
Kirby considers the pipeline of prospective projects to be healthy with significant capital investment earmarked for the bio-pharma and mission critical sectors, not just in Ireland but also in the UK and European markets.
Innovation is very much at the core of Kirby's business. In 2012, the firm invested significantly in BIM and since then has found itself at the forefront of BIM utilisation with an in-house BIM department consisting of 10 highly trained experts who are adept at working on projects in any sector. Earlier this month, Kirby was awarded BIM Initiative of the Year at the Irish Building and Design Awards.
According to Fergus, the 'Kirby Way' of doing business involves early engagement,  understanding clients' needs, building high-performance teams and supporting clients through every stage of the project. "Our 'can do'  attitude means Kirby staff say 'yes' more often, find flexible solutions to complex problems and engage with our clients as true partners."
A number of key appointments within the company have strengthened Kirby's management team and ensured a bright future for the firm. Ray Ryan was appointed Director, Quality, Environmental, Health and Safety (QEHS), highlighting the emphasis the firm places on proactively acting at all times in a manner that's designed to deliver all work to the highest quality. Fergus Barry was appointed Associate Director, Human Resources; Donal Lynch was appointed Associate Director, Finance and Corporate Services; Colin Kelly was appointed Managing Director of the firm's growing UK business; while Henry McCann was appointed Associate Director, leading the Dublin and West business unit. Other recent appointments at Kirby include David McNamara who was made Associate Director, leading the enlarged Munster and Europe business unit and Alan McHugh who was appointed Business Unit Manager of the firm's successful and growing transmission and distribution business unit.
In order to try and mitigate the worst effects of another (inevitable) downturn, Fergus says the government needs to play a bigger role. "The government needs to continue to support and develop state bodies such as the IDA and Enterprise Ireland. These organisations do great work in securing FDI and supporting Irish businesses in their growth and development. We need to see the government do more in relation to attracting talent back to Ireland and promoting careers in Science, Technology, Engineering and Mathematics."
When it comes to ambitions for the future, Fergus says he and the team are keen to retain the firm's 'family feel'. "I think that ethos has cultivated loyalty and commitment among our employees. Our focus is very much on creating an environment where growth is a key part of wellness. We believe in the importance of getting the work/life balance right; motivated and engaged employees are better able to deliver for our customers. This has greatly contributed to our overall success and reputation." At the core of the business is a priority to providing a safe and healthy workplace that enhances people's welfare. "For Kirby, the concept of employee wellness is twofold; we are not only concerned about the health of our employees from a wellness point of view, we are also concerned about their safety."
A commitment to staff and a company ethos that isn't just focused on boosting turnover is what the future is all about at Kirby. "Our focus is very much on the future and continuing to grow the business while ensuring clients continue to benefit from the 'Kirby Way' of doing business. We will continue to be innovative and at the forefront of advances in technologies, materials and processes to ensure we continue to offer value to the client. We will also continue to invest in our people and build high-performing teams. It's a very exciting time for everyone involved with Kirby."
This article first appeared as part of the Irish building magazine 'Leaders in Construction' interview series 2016. Click here to read the entire issue
The content of this site is subject to copyright laws and may not be reproduced in any form without the prior consent of the publishers. The views expressed in articles do not necessarily represent those of the publishers.