Kilsaran's EWI Gives the K-Club's New 'Liffey Wing' a Warm Hug
Kilsaran International, Ireland's largest independent manufacturer of paving and concrete products, was delighted to have been chosen as supplier of choice to the new extension at the K Club. A 5 star hotel and resort located in Straffan, Co.Kildare.
T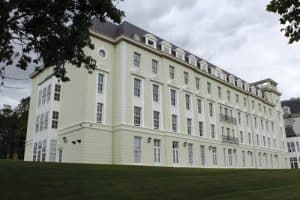 he €20 million extension started in 2012. The extension doubles the size of the resort to an impressive 134 rooms with additional new facilities such as; Thai restaurant, Media Puzzle bar and conference centre makes this one of Irelands leading Hotel and Resort complexes. Best known for its Ryder Cup hosting duties in 2006, the K-Club is also celebrating its 25 year anniversary in 2016 making the completion of the impressive extension even more poignant.
Kilsaran`s Dry Products R&D Manager, Alan Holton headed up Kilsaran`s expert team for the project. "The brief was very specific; allow the new extension to blend seamlessly with the existing. The existing resort was based on a 19th Century French Chateau and the new extension need to replicate this yet have a speedy timeframe and require minimal long term maintenance" stated Alan Holton.
The specification for Kilsaran`s Ceresit-Ceretherm External Wall Insulation System was made to the new `Liffey Wing`. The Ceresit Ceretherm 60 was the perfect choice; Certified to IAB09/0340 with a category 1 impact resistance and a bespoke Silicone Render, cleverly matching the colour of the existing building.
In order to reach the required performance level of a U Value of 0.21, the lower ground floor levels used a 160mm thick HD Insulation which was wire cut to form the unique detailing. The second floor used a 150mm thick Graphite Enhanced Insulation. The attention to detail to get the desired effect and performance qualities were second to none. This showcases what is truly possible when using a winning combination of products from Henkle/Ceresit and state of the art manufacturing facilities from Kilsaran's own Brownstown plant.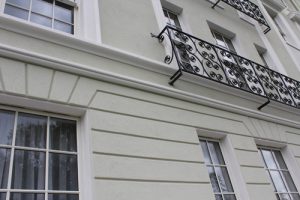 The installation of the EWI was completed by SF Plastering, with all 1600sqm completed in approximately 12 weeks, on time and in budget. Kilsaran were able to offer full support and guidance during the installation as well as a one stop shop for all the external facades materials including the EPS mouldings used to create the unique Chateau look. From Insulation, fixings, renders and paints for the whole project Kilsaran, exceeded expectations on site for a great customer service experience.
With a growing reputation for high quality, competitive products and best in class support and guidance, it was an easy decision for MB McNamara Construction to use Kilsaran products, further developing the relationships that we have enjoyed over the years.
For more information please visit Kilsaran online: kilsaran.ie