'Leaders in Construction' Oliver Lonergan Managing Director, Dornan Engineering
Dornan Engineering prides itself on maintaining satisfied clients that return to the firm time and time again.
Before joining Dornan's, Managing Director Oliver Lonergan worked outside of Ireland for 14 years accumulating experience in the Middle East, the Far East, the UK, Belgium and Holland. That international experience has proved invaluable to Dornan's as they tender and work on complex commercial and industrial projects on the international market today. "It was certainly helpful as we knew going in how business is done in those countries and we understand it. You'd be surprised at the number of people who are still around from 20 years ago who remember you. If they know you can perform they're happy to talk to you and deal with you again. That has been a major benefit to the Dornan organisation as it has expanded its service delivery from Ireland into the UK and continental Europe".
In 2015 Dornan Engineering turned over €212 million. Out of that €37 million was in Ireland and about €100 million was in the UK. The rest was spread over Holland, Belgium, Germany, Sweden and Denmark. Projected turnover for 2016 currently stands at €250 million. The firm has performed exceptionally well overseas, with increasingly significant projects being won on home soil at a growing rate. For the most part, work is in Dublin. "There isn't a huge amount going on outside the capital but in Dublin, we're fitting out a large commercial building in the middle of the city, we've just finished a large data centre in Profile Park and we're working on another large data centre in Clonee in Co. Meath. There are a number of industrial jobs around that we're very keen on so I think there's potential to have a very good 2016 in Ireland."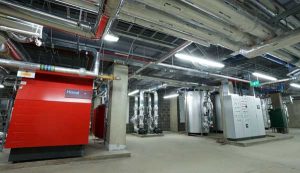 The UK provides a steady revenue stream for the firm, with projects ongoing in London and outside the city. In 2012 Dornan set up and holds the majority share in Kantor Energy along with its Managing Director Paul Dempsey. "Through Kantor Energy last year we took on a large project to develop a small power station (5.5 megawatt) in Holbrook in Sheffield. We're going to engineer it, procure it, construct and commission it and after a period of reliability testing, hand over a completed facility to our client. It's a project that we're taking from a greenfield site to a completed product so it's a bit unusual for us but it will be another string to our bow. We've also been busy working outside London for the HSBC Banking Corporation in Sheffield and also on a large power station for the ESB in Carrington." Other projects in the UK include a large shopping centre in Bracknell and two large commercial buildings in Oxford. In central London, the firm is working on a very large commercial project in Victoria.
To complement the extensive work done in the UK in the past five years and in an effort to put a lot more concentration on the industrial business, the firm took on Tony O'Shea as a Director of the UK business to concentrate solely on the industrial side. "Tony was well known to us and worked with the owners at Dornan in the past. He has spent the past 20 years heading the industrial division of a large UK engineering company. In the short period of time that he has been with us, we've secured two projects, one with Merck in Milton Keynes and another project for Dragon LNG in Milford Haven in Wales. We felt there was a large section of business we weren't hitting properly. We had completed a number of industrial jobs but felt we wanted to put more balance into our order book. That new focus will take a number of years to mature but that's the idea."
The commercial business in London remains extremely important to the firm. "It gives us a great base and a business to be able to grow off. You tend to get projects that are long lasting, that go on for 18 months or two years. That adds a great stability to your organisation. With industrial jobs you bid them today, start them tomorrow and finish them in six months' time. In mixing the industrial and the commercial we're ensuring we have the right mix of work going forward."
Approximately 1200 people are employed by Dornan Engineering, with the company's greatest area of expansion on the continent. "We're doing a couple of very large projects in Holland at the moment and we also secured a large petrochemical project for Total in Antwerp last year." Like so many construction firms, finding skilled labour is an issue. "It's hard to find experienced people everywhere really, in all the countries we work in. The downturn meant a lot of people left the industry and it doesn't look like they're coming back. Construction was always a business that regenerated itself; as people left it more people came in. That hasn't been happening so there's a very definite gap that's creating problems for the industry and will continue to do so." To circumvent this issue Dornan has initiated new apprenticeships schemes both in the UK and Ireland and increased the intake of graduates into the business.
The Dornan business is based on doing good work and ensuring clients are satisfied. "A happy client is always willing to give you more work. That's how we built the company. Client relationships are the single most important aspect of our business. Without them, we'd have no work. We spend a lot of time making sure we understand what our client wants and needs. We would consider ourselves partners to clients, helping them to make decisions that are needed to progress the project in a timely manner while affording them ample opportunity to ensure they can get what they want."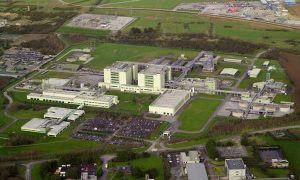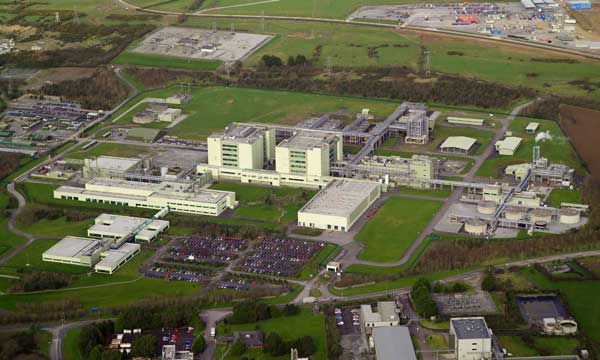 Key projects that firmly placed the firm on the construction industry's radar include Bristol Myers Squibb in Dublin and the Analog Devices project in Limerick. A flurry of activity in the pharmaceutical sector in the 90s and early noughties saw the firm develop important and lasting relationships with the likes of Novartis, GSK, Eli Lilly, BMS, Pfizer and Johnson & Johnson Group. "Those relationships along with the ones we fostered with engineering companies such as Fluor, Jacobs and PM Group are the key relationships that brought the company forward. They all still exist today."
The firm's first project abroad was the Pfizer project in Strangnas in Sweden which it won in 2007 and completed in 2008. In the UK the first project the firm secured was the Newbury data centre for the Nationwide Building Society. "That would have launched us in the UK and allowed us to work with some of the main contractors over there. From an industrial point of view, the Pembroke power station job we took on in 2010 which was the largest industrial job in the UK at the time was an important project for us; it secured us a significant amount of repeat business."
In continental Europe the big breakthrough came for the firm in 2009 when it secured the Ticona project in Frankfurt. "That secured us nearly €45 million over a two year period and gave clients confidence that we could deliver large scale projects on the continent as well as in Ireland and the UK. We're continuing to do that today."
Health and safety is extremely important to the firm, who has implemented a behavioural based system across all projects over the past two years. "It's to praise people for their efforts rather than give them retribution for their failures. It's about recognising what's gone wrong but rewarding what's right. We have score cards on every site that show us if we are improving or disproving in certain areas. A huge amount of effort from us all goes into safety every single day."
Oliver and his fellow directors don't have a five year plan. "We never really sat down and said we're going to be a €200 million company by 2015. What we did was we looked at quality clients and decided to secure quality projects for our people. If we can give our workforce quality work and treat our staff and workforce fairly, they'll do good work. That will please the client who'll end up giving us repeat business. We've tried to generate our business in that way and we've been quite successful at it." Oliver says if the company's growth became negative, it wouldn't bother him too much. "What's important is that we have good work. We're careful around what we take on. If a job doesn't suit us or if we feel we don't have the right people to do it, we simply won't do it."
The reality is that, nonetheless the firm is growing and growing at a steady, impressive rate. Oliver says that in five years' time, he hopes to be working with the same clients he's working with today with maybe a few new ones added to the mix.
"The other directors and I would like to thank our clients for the faith and trust they've put in us. We hope we have repaid them and we hope to continue to do that business. We'd also like to thank our employees; without their commitment, hard work and diligence, we would have nothing so we have great appreciation for that."
This article first appeared as part of the Irish building magazine 'Leaders in Construction' interview series 2016. Click here to read the entire issue
The content of this site is subject to copyright laws and may not be reproduced in any form without the prior consent of the publishers. The views expressed in articles do not necessarily represent those of the publishers.
[rev_slider subscribe]