'Leaders in Construction' Eoin Vaughan, Chief Executive, Mercury Engineering
A privately owned electrical, mechanical and fire protection contracting firm that has grown over the past 40 years to generate revenues in excess of €400 million per annum, Mercury Engineering is showing no signs of slowing down.
Mercury Rising
Founded by Frank O'Kane and Joe Morgan in 1972, success at Mercury has never been driven by turnover. Delivery of projects for key clients has dictated when the firm ramps up and down, says Chief Executive Officer Eoin Vaughan.
Understanding the value of maintaining clients in each sector rather than over extending on revenue has stood to the firm over the past few years in particular.
2016 will see turnover levels at Mercury once again exceed €400 million. Eoin estimates that over 70% of this year's turnover will be generated from repeat business. "It's a testament to the delivery of our operational teams and the relationships we have developed over the years." The firm works for a number of key clients in Europe across four or five different countries at any time; this contrasts with the regionally focused strategy the firm employed a couple of years ago. "We had a Middle East business, a Russian business and also offices in Poland, the UK and Ireland. Now, we're much more focused on our clients and we'll go where they want to go and continue to support them in their developments. We exited the Middle East market altogether and have de-risked our position in Russia and  are now much more focused on driving client development."
The primary driver of development in Mercury over the past few years has been FDI related, with FDI clients making up 60% of the firm's business. "We were one of the first firms in Ireland to get involved in a serious way with FDIs. In the early 2000s we took the decision to expand internationally, thinking that we would replicate the success achieved in Ireland. We suffered for that so now we pick and choose clients that have the same mentality of our FDI clients." Throughout the recessionary years, FDI investments ensured the firm continued to deliver in line with current revenues. "We were lucky enough to work on several key projects across a range of sectors particularly with clients in the oil and gas, data centre, semi-conductor, life science and healthcare sectors. Without those clients, who operate in a range of sectors, it would have been a very challenging period for us. Right now we're seeing an increase in FDI and we expect to be involved in a fair amount of it."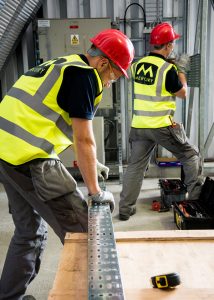 Mercury is one of the largest employers of mechanical and electrical apprentices in the country, with about 200 apprentices currently on the firm's books. "Like all construction companies we go through peaks and troughs. It's very much project driven so it's hard to maintain a stable level of employment at times. We felt a responsibility during the recession to take on as many as we could and we found it hard to sustain that. Over the past few months we've had to put a few of our apprentices on temporary lay-off but by June, they will all be back in full-time employment." The firm recently launched an apprenticeship scholarship scheme which will allow apprentices develop even further. A number of scholarships are up for grabs; apprentices will apply for the position and the best candidates will be put through. "It's something we've been driving for a while as we find that some of the best project managers and leaders of the business come out of the trades. We want to unearth that talent quicker and this is one of the ways we're going to do that." About 25 graduates are also taken on every year through the company's dedicated graduate programme. "We put them through a two year programme where they also will be given the opportunity to work on one of our international projects and we have seen great benefits from that particular programme. We have developed a Future Leaders programme which is specifically for people who have been in the business for some time and are keen to develop their careers."
Eoin says a lot more needs to be done by the construction sector in relation to training in Ireland. "Industry and Solas need to work together to meet the demands of what our industry wants but also what our tradespeople require. One of the selling points of the Irish is the positive work ethic which we're trying to develop with young Irish engineers who also understand the culture of Mercury and are the best on the international stage."
Eoin began his career in Mercury in 2005 as a contracts manager in the company's Cork office. In 2008 he was asked to become general manager of the Eastern European business in Poland and spent four years in Warsaw. "In 2012 I went to the Middle East and was there for two and a half years. I came back to Dublin in August 2014 and took up the role of managing director." Eoin says he's been fortunate to avail of the opportunities Mercury made available to him throughout his career. "One of the advantages for someone like me is that you get the opportunity to climb the ladder much quicker than you would in a recessionary period due to the higher level of activity. Timing and luck was everything."
Mercury focuses on a range of specific sectors including semi-conductors, data centres, life sciences, healthcare and general commercial. "Through the recession we were lucky that a semi-conductor client undertook a significant development of one of their sites. If you look at the UK during the recession they spent money on healthcare; we've been lucky enough to work on a number of those hospitals. Healthcare is also something we've developed over the past 10 years and have gotten very strong at." A huge boom in the construction of data centres has also benefited the firm. "We were fortunate enough in the late 90s to be involved in some of the earlier data centres in the UK and Ireland. We became experts in the construction of these projects from a mechanical and electrical standpoint."
'Mercury 2021' is what the firm calls its mission statement, setting out its desired path from 2016 to 2021. "It charts where we want to be as an organisation and how we want to be recognised. It also sets out how we are becoming less dependent on the regions and more focused on a centralised hub that works on the sectors where we have embedded competencies." Current projects include the new Facebook development in Clonee, a mechanical project for Bristol Myers Squibb, the Royal Children's Hospital in Edinburgh and various other data centre projects in Ireland, the UK and across Europe.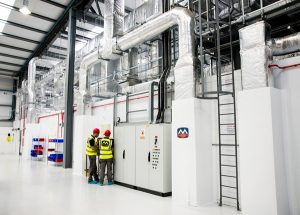 Ensuring delivery of the job irrespective of the circumstances is one of Mercury's key attributes. "I think our ability to be able to deliver for clients in Israel is a good example of being able to deliver for a key client. Our ability to be able to go to Stockholm and deliver a €150 million data centre without having any key hub in the region is an excellent example of our capability and of the faith our clients put in us. Our ability to ramp up our tradespeople in Ireland to deliver multiple large projects demonstrates our scaleability and that's something that our competitors probably don't have."
When it comes to BIM, Mercury is to the forefront of the companies who have adopted the technology. "In the last few years the industry and our clients have been moving towards BIM projects. The majority of projects in the semi-conductor, life science and healthcare sectors utilise BIM. Over recent times, we've modular built a lot of our projects and we've used BIM to develop the modules which we manufacture either in our Newbridge facility, where we have a dedicated BIM hub, or in the UK or in Poland. Over 70% of our projects are now fully developed in BIM."
According to Eoin, the contracting market is still extremely competitive in Ireland, especially when it comes to mechanical and electrical work. "Gone are the days of competing solely on price but also gone are the days of thinking you only have two or three competitors."
Development of people at Mercury and a recognition of how crucial the firm's staff are is where its success is, says Eoin. That's the firm's most entrenched strategy. "We want to grow our people just as much as we want to grow our business. At the moment we have about 2000 staff and we expect that figure to grow as we ramp up projects in 2016. Going forward, it's imperative that Ireland continues to attract foreign clients to our shores. We intend to continue delivering projects for our clients while providing our staff with projects they want to work on irrespective of location."