Stirling Lloyd's decseal range specified for expansion of growing Dublin Airport
Dublin Airport's Terminal 2 Short Stay Multi-Storey car park has been expanded to house a further 1,400 spaces on the back of growing passenger numbers.
Stirling Lloyd's Decseal waterproof coating range was specified for the project, the third time that the range has been used on a project at the airport. Due to the nature of the build, lightweight materials were essential, as well as speed of application. The car park remained open during the project and work was staggered.
John Freeman at Ecoflex Surfacing Limited, Stirling Lloyd's authorised contractor, comments: "The extension of Terminal 2's Short Stay Multi-Storey car park will really benefit the growing number of passengers passing through the airport. For such a high profile project, it was important to work with trusted products and partners – thanks to Balfour Beatty for bringing us on board. Decseal was used for the third time on a project at Dublin Airport due to its consistently high level of performance and durability track record."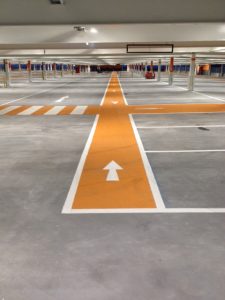 The car park now has an additional four floors, taking the total number of spaces to 2,500. The extra spaces will help to service increasing passenger numbers in the airport – a rise in passengers of 17% was reported in the first quarter of 2015 alone.
In total, 10,500m2 of car park deck was treated with a Decseal waterproofing and wear course system, with a fully embedded scrim. Decseal's Wearing Course system, in colours including lilac and pastel orange, was specified in a further 4,000m2, including 1,000m2 of internal pedestrian walkways.
A variety of Decseal solutions were used in the car park project. The full system, reinforced, was used on the external area of the third floor and the sixth floor top deck, as both are exposed to the elements and required additional protection. The full system with reinforcement provides waterproofing as well as exceptional crack resistance.
The Decseal Wearing Course system was specified on a number of internal walkways, providing skid and slip resistance for both vehicles and pedestrians.