Lean Construction at the 4th Annual WIT Lean Forum
The 4th Annual WIT Lean Forum was held at Waterford Institute of Technology (WIT) on Thursday April 28th here Irishbuildingmagazine.ie reviews the event with the organisers and some speakers.
Lean Construction is of great interest to the international construction industry, and this is increasingly reflected in building courses and academic research. Lean Construction was a prominent topic at the Forum. Irish building magazine spoke to Darrin Taylor and Robin Stubbs of WIT, and Aidan Clancy of Clancy about the event, their interests, and Lean Construction.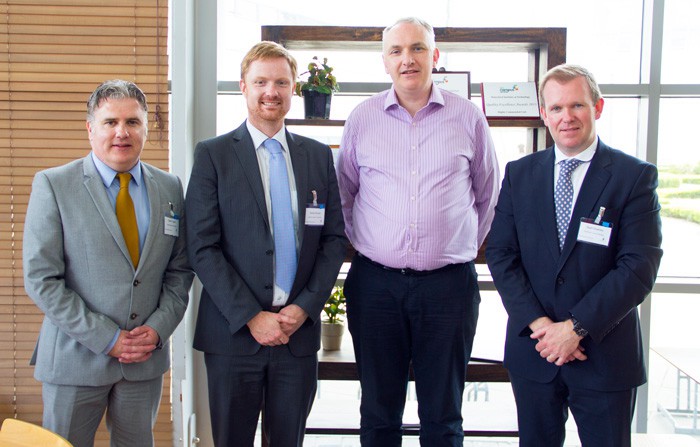 Darrin Taylor
Darrin Taylor, Lecturer in Management at the WIT School of Business, Co-Director of the WIT Lean Enterprise Excellence Group, and Co-Director of the WIT Lean Enterprise Excellence portfolio of executive education programmes spoke to us about the event.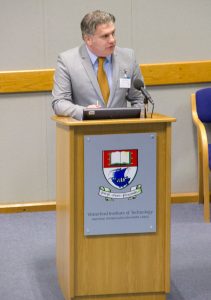 Describing the speakers and attendees, and the overall success of the event, Darrin said: "Our 4th Annual WIT Lean Forum was the largest and most attended to date with approximately 320 people attending representing over 200 organisations from all over the country, and some from abroad.
Our Keynote was delivered by Professor Peter Hines, a global thought leader in Lean, academic, practitioner, consultant, award-winning author, senior certified Shingo facilitator, and Visiting Professor at WIT School of Business. Professor Hines' presentation was entitled 'People in Lean Enterprise Excellence', and stressed the critical need to honour the 'respect for every individual' principle upon which Lean is founded.
We also had presentations on Lean in Healthcare, Lean in Construction, Lean in SMEs, and Lean in Micro Organisations. A feature of the Lean Forum is the inclusion of honest case stories of how organisations think about, approach, and implement Lean. Another feature is the inclusion of presentations from different scale organisations: Multinationals, SMES, and Micro businesses."
[rev_slider Stel]
You can see the full programme at www.wit.ie/LeanForum.
Darrin said how significant a part of the event Lean Construction was: "As part of my involvement with the Lean Construction Institute (LCI), and as part of the LCI's wider Communities of Practice (CoP) engagement and activities, the LCI was invited to associate with WIT on our Annual Lean Forum and to complement other LCI events that run throughout the year.
The reason was to offer the LCI CoP and AEC sector the opportunity to become part of that wider Lean CoP; to learn from other sectors; and to see some presentations on Lean in Construction. Lean Construction played a significant part in this year's Lean Forum, and I trust and hope it will feature every year going forward, with more and more case studies showing how much the sector is advancing on Lean. Our School of Engineering also partnered with us this year to further promote the shared cause."
Robin Stubbs
We spoke to Robin Stubbs about the topic of his presentation, his research, and work at WIT. Robin has been lecturing in Department of Architecture at WIT since 2001. He is programme leader of both the undergraduate Honours Degree in Architectural & BIM Technology and the postgraduate Higher Diploma in BIM.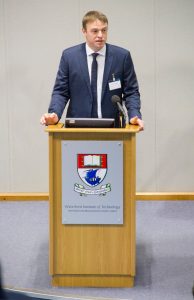 In 2013, Robin and two of his colleagues founded the Building Information Modelling Collective (BIMC) Research Group, with the intention of conducting applied research for industry in the subject areas of BIM Technologies and BIM practices. Robins is currently a PhD candidate at the Digital Design Studio and Hub at the Glasgow School of Art (GSA) where his research is focused on re-interpreting the built heritage via the medium of virtual environments.
We asked Robin about his presentation topic, titled "LEANing towards BIM", and his research in the area. He said, "My research is fundamentally related to BIM, both BIM processes and BIM technologies. This is by and large conducted through the BIMC Research Group which is housed in the Department of Architecture here at WIT. Myself, and two colleagues founded the Group in 2013 and have grown from strength to strength in that time to a point where the group now measures 10 researchers, all with various skillsets ranging from Architectural Technology to Energy Engineering to Computer Science."
"Following recent discussions with our colleagues in RIKON, a research Group in the School of Business, we have started to explore the crossover between the processes and ideology of BIM and LEAN and how both processes can act as an enabler of each other."
Considering his presentation topic, Robin told us about the connection between Lean and BIM: "The presentation concentrated on how both practices can form a symbiotic relationship within the Irish Construction Industry. In many ways, the desired outcomes from both processes are essentially the same, and both foster the notion of "build right first time."
[rev_slider Stel]
Aidan Clancy
Aidan Clancy, Business Development Manager at Clancy, recently presented at the WIT Lean Forum. Aidan is currently undertaking a Master of Business Administration (MBA) at WIT. We spoke to Aidan about his interest in Lean, Lean at Clancy, and the WIT Lean Forum.
Describing his interest in Lean Construction, Aidan said, "I had been aware of Lean in the traditional manufacturing sense since my undergrad days as a mechanical engineer. In more recent times our company's close association with WIT has broadened my horizons on the topic. The WIT connection initially led out to some pilot studies and we've gone on from there. I attended my first LCI event early last year and that really opened my eyes to the scale of Lean thinking in the sector."
Aidan presented at the WIT Lean Forum. Aidan described his presentation topic, titled "Applying Lean Thinking to Data Management in a Construction Firm", and his research: "My presentation was about a number of subjects close to my heart. It was part of a substantial amount of research that I'm currently carrying out as part of my master's dissertation. From a company perspective, Clancy has always been keen to leverage new technologies to drive efficiencies. We were one of the first contractors to embrace the cloud for document management and my research was all about how we could open up our systems to foster supply chain collaboration. It's something that was very much guided by Lean principles and BIM philosophies. It also speaks to the company motto of 'Built on partnership'."
Asking if Lean Construction is changing the Irish Construction Industry? Aidan gave us his views, saying "There is a huge opportunity for the construction industry if we all embrace Lean thinking. On a company level you can only do so much but if the whole construction eco-system, or at least large parts of it, embraces Lean Construction then you will see a dramatic improvement in the way construction is delivered. This would manifest in many ways starting from concept stage, through to design, procurement, right-first-time construction and more efficient handover. Ultimately the client gets a better quality product, in a shorter time, for a lower cost. There is a long way to travel before we get to that point"
In describing the interest in Lean Construction at Clancy, Aidan told us about the practical view of Lean. "Lean is something that I think we all understood instinctively without necessarily knowing we were talking about 'Lean'. The elimination of waste is something that everyone recognises. The importance of getting the job done right the first time has always been a priority since the company was founded. The difference now is we have an enhanced understanding and a whole new suite of tools to implement this mindset."
BIM and Lean are a combination often spoken about at CitA meetings and other industry events. Aidan told us that Clancy will combine both: "We have invested heavily in BIM and see it as a key part of our strategy into the future. We were working on our BIM capabilities long before we became aware of the benefits of Lean Construction. The two topics are remarkably complimentary and when combined together can give us a real edge doing business."
We asked Aidan what was the highlight of the WIT Lean Forum from a Lean Construction viewpoint. He said, "I think the fact that the event happens at all is a testament to the vision of the staff in WIT for organising it. Bringing together people from all sorts of companies across the south-east and nationally, not just construction companies, is a great boost. There is a real sense of openness at the event and great potential for cross-pollination of ideas."
Upcoming Lean Events at WIT
Please check www.wit.ie/Lean for events across the 2016-2017 academic year. Darrin said, "The 5th Annual WIT Lean Forum will take place in April/May 2017; and our Lean Practitioner Seminar Series will resume with sessions in October, November and December 2016, plus January, February and March 2017."
Please check www.leanconstructionireland.org for updates on future LCI events.
Both the WIT and the LCI events are free to attend.