Boland's Quay Development Progressing on Schedule
Speaking ahead of the official marketing launch for the project which takes place this evening, Mark Reynolds of Savills (the receiver), said they aim to appoint a main contractor by the end of July, with a view to being on-site at the beginning of September.
Planning for the development of Boland's Quay, which is situated at the iconic Boland's Mill site in Dublin's docklands, was approved last July – just 6 months after the initial planning application was lodged.
Significant progress has been made on advancing the project which is due for completion in 2018. Demolition works to remove the existing silos are well underway and due for completion in June 2016. In addition, a specialist conservation contractor will be appointed by the end April to restore the existing protected mill buildings on site which will be converted for commercial and residential use.
[rev_slider Stel]
Designed by Dublin's leading architectural practice, Burke Kennedy Doyle, Boland's Quay will provide 3 new landmark buildings comprising approximately 36,851 sq. m (approx. 397,000 sq ft) of office, residential, retail and cultural space. The development will also involve the development of a new civic plaza looking onto the waterfront at Grand Canal Dock.  When complete, Boland's Quay will accommodate up to 2,500 workers.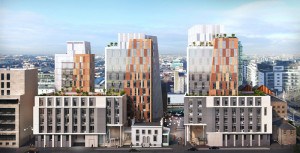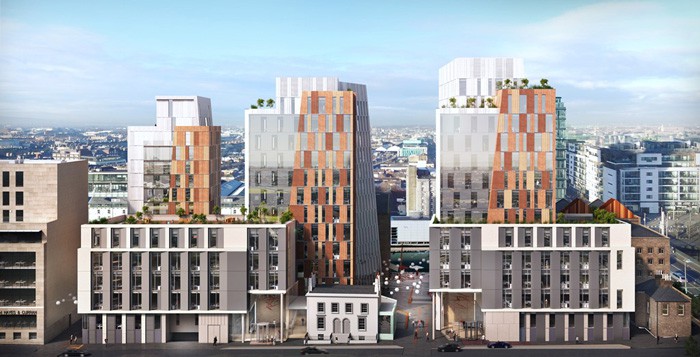 Michael Cleary from the Boland's Quay Development Group commented: "The SDZ fast-track planning scheme introduced by Dublin City Council has enabled us to advance this project in a very short period of time and the project delivery team are progressing full steam ahead with the development. On completion in 2018 this significant construction project will become a landmark office development in the resurgent Dublin Docklands area."
The 'Boland's Quay Development Group' (BQDG) is a collaboration of Mark Reynolds of Savills and property development consultancy, Cleary McCabe & Associates.
JLL and Lisney have been appointed joint lettings agents for Boland's Quay.