€1 million in funding available from SEAI for energy research projects
The Sustainable Energy Authority of Ireland (SEAI) has launched a call for Energy Research, Development and Demonstration (RD&D) projects to avail of a €1million fund available this year.
The funding is intended to accelerate new market solutions and overcome technical or other barriers in the move to a secure, clean energy future.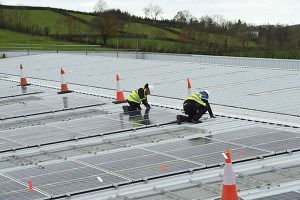 Proposals are invited from private and public organisations such as third level colleges or research institutes, covering themes such as renewable electricity, renewable heat, community energy projects and building retrofit. Typical project funding under the programme is €20,000 to €100,000.
Commenting on the funding available Dr Eimear Cotter, Head of Low Carbon Technologies with SEAI said: "As we move to a society which is built on more secure, sustainable and affordable energy sources, we need to continuously innovate and find  improved ways of doing things.  Ireland has a proven record in research and our Energy RD&D programme encourages collaborations between industry and academia which enables our researchers to look at new ways of sourcing energy, using energy or applying energy data."
[rev_slider AG]
SEAI has been operating the Energy RD&D programme since 2002 and in total €25.5 million in funding has been provided to energy research. Recent projects supported include:
·        RR Projects in Offaly were part-funded to deliver a €2.25 million hybrid flywheel-battery project to potentially provide dynamic energy storage to the electricity grid.
·        Kingspan Limited were grant-aided to install an innovative 300 kilowatt solar PV system consisting of 1,200 rooftop panels in Castleblayney making it the largest PV  rooftop installation  in Ireland.
·        Bord na Móna were grant aided to cultivate, harvest and evaluate bioenergy crops for various end uses such as biomass briquetting, pelletising and composting.
The closing date for phase 1 applications is 1st April 2016. Further information on the indicative timeline, the application guidelines and application form are available at: http://www.seai.ie/Renewables/Energy_Research_Portal/National-Energy-Research/