Construction of Dublin's 'Vertium' Building is well underway
The streetscape of Burlington Road, Dublin 4, is set to change dramatically with the addition of 'Vertium' – a new 172,000 square foot office building. It is due for completion in Q2 2017.
The 6 storey building is described by joint letting agents Savills and Knight Frank as a "statement office development dedicated to creating a bright, inviting and energy efficient workspace".
Construction activity is well underway, with the basement fully excavated and the main structure now rising. Answering to the demands of the Government and the IDA to provide more quality office space, it will be the first major CBD (central business district) office development to come on stream since the economic downturn, delivering new office space to the highest international, Gold LEED standard.
The project is the result of a collaboration between three of Europe's leading property companies – Union Investment, U+I and Ronan Group – who have united to deliver this pioneering development situated in the heart of Dublin's CBD.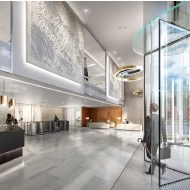 Surrounded by 1,800 square metres of creative landscaping, this striking panoramic building will span almost 100 metres on Burlington Road and, upon completion, could accommodate up to 2,000 workers. The detached nature of the new structure will allow for natural light on all sides. In addition, its floor plates (the largest under construction in the CBD and with almost no internal columns) can cater for a range of occupier sizes.
Roland O'Connell, Chairman of Savills and Declan O'Reilly, Director of Knight Frank the joint letting agents for Vertium made a joint statement;
"It has been well documented that there is simply not enough office space to meet the demand of occupiers in Dublin's central business district. Major new office schemes such as the Vertium building are crucial in ensuring Dublin remains a competitive city when it comes to attracting foreign direct investment. The level of interest, best expressed by occupiers already, is very encouraging, prompted by the fact that there is very little new stock that can be delivered within the next 15/18 months in Dublin."
Shane Whelan, Development Director of Ronan Group commented;
"Ronan Group is proud to deliver another best in class office building in a proven central Dublin location where it has previously delivered such marquee buildings as Connaught House. In conjunction with our development partner U&I along with Union Investments, the delivery of a substantial building offering large flexible floor plates will be a timely boost for the office market."
Matthew Weiner, CEO, U+I commented;
"Vertium represents not only a significant project for U+I but also for the commercial property landscape in Dublin. We strive to bring added value to the communities in which we operate, giving old or underused sites a new lease of life and our activities here will help to create a new commercial hub for Dublin 4. We are delighted to have the opportunity to work with Union Investments and Ronan Group and to continue our on-going investment in Dublin".
Burlington Road is situated in the heart of the CBD and within short walking distance of a well-established social and restaurant scene that incorporates the vibrant village atmosphere of Baggot Street, the nightlife of Leeson Street and the scenic setting of the Grand Canal. It is also a business hub that hosts the headquarters to world-renowned domestic and global organisations such as Amazon, BSkyB, EBS, LinkedIn, Bank of Ireland and AdRoll. All major metropolitan transport networks service the area providing rapid access to the city centre and Greater Dublin Area via Dublin Bus, the Luas tram system and the DART/Dublin Suburban Rail.
Savills and Knight Frank are quoting a rent of in excess of €55 per square foot