QRL strengthens Irish management team
Following the recent unveiling of its fresh brand identity, QRL Radiator Group – formerly Quinn Radiators – has appointed a new general manager to head up its Irish division.
The leading manufacturer has welcomed Maura McCabe as General Manager for Ireland – one of three newly created senior management positions within the wider business. Bringing with her 15 years' commercial and operations experiences across industries including heating, plumbing and property, Maura will be based in the company's Derrilyn offices. She will be responsible for the day-to-day running of all aspects of QRL's panel and design radiator departments in Ireland, from admin and HR to sales and warehousing.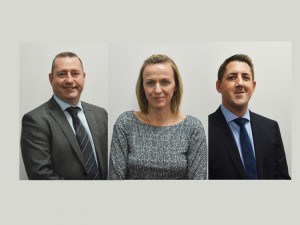 Joining QRL Radiator Group's UK leadership team are Mark Derbyshire, Commercial Managing Director for the company's panel radiator ranges (hi-lo, Barlo and Warmastyle), and Lee Kenney, Commercial Managing Director for Design by QRL and custom heating and cooling specialist Merriott.
David Kerr, chief executive at QRL Radiator Group, comments: "Having recently revealed our fresh look and vision for the company, there couldn't be a better time to bolster QRL Radiator Group's management team. Our Ireland, panel and design divisions are all key to the business's ongoing success, and they need strong, dedicated leaders – which is why we've specifically created these roles for Maura, Mark and Lee. All three are highly skilled, knowledgeable and driven people with impressive, longstanding industry experience."
Mark Derbyshire, previously commercial director at Vaillant, has almost 20 years' experience in the plumbing and heating industry. In his new role, he will oversee QRL's panel radiator division in the UK – including its market-leading hi-lo, Barlo and Warmastyle ranges. Lee Kenney joins QRL Radiator Group from IBP Conex, marking the latest step in his 30-year career in the HVAC sector. He will now manage the UK Design by QRL portfolio, as well as heading up Merriott (part of the QRL group) and its range of custom-made commercial heating and cooling solutions.
David continues: "Most importantly, our new recruits very much share in our companywide passion to cement and maintain QRL's position at the forefront of this competitive marketplace. This means ensuring our products remain the better choice for customers across the UK and Ireland by championing our core brand values – from exceptional quality, performance and value right through to outstanding customer service and environmental credentials. I know the whole team joins me in extending a warm welcome to our three new colleagues, and I look forward to working closely with them to achieve our ambitious, long-term business goals."