Acheson & Glover (AG) – 50 plus solid years and now poised for expansion in Irish market
One of Ireland's best known names in hard landscaping products has announced ambitious plans for expansion in Ireland.
Acheson & Glover (AG) which employs around 400 people across eight locations has been designing and manufacturing concrete products for more than 50 years is looking forward to the future with optimism after a major re-structuring programme.
Now under the ownership of Acheson Holdings Limited the business is performing strongly and has plans for a return to growth and investment.
According to MD, Stephen Acheson, AG's turn-around and growth trajectory is reflective of an uplift across the Irish construction industry. "The feedback we are getting is that there are many parts of the Irish building industry that are beginning to grow once more and put the recession behind them. If the economic downturn has taught us anything it's the importance of responding quickly to changing operational environments and staying close to your customers. Those were two of the key reasons we have survived for so long and together with a dedication to quality and innovation they are critical components in the way we operate at AG."
But AG is about much more than generating positive mood music. In recent months it has upped capacity across its manufacturing locations and begun an investment programme in plant and equipment that will increase further its wide range of concrete products which span from precast to patio pavers.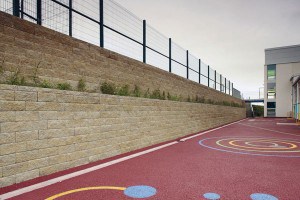 "We're proud to have the largest range of paving processing equipment on the island which enables is to create products in a huge variety of polishes and textures as well as shapes and sizes. These elements are proving crucial for specifiers and construction companies who want to be a little more creative with designs and patterns.
"We pride ourselves in delivering a personal touch and believe in working closely with our professional partners in relation to new product development. Because of our experience and infrastructure we are able to stay ahead of the curve in terms of anticipating the needs of specifiers and bringing world-class thinking and products to the market.
In recent months, as part of our commitment to meeting the growing demands for innovative new product finishes we have introduced Ireland's first genuinely large format paving range under licence from German giants, RINN. This product which can be produced in a wide range of format sizes and finishes is especially suitable for large scale public realm and commercial schemes and has been extremely popular in Europe.
AG's impressive product range includes structural precast, block paving, flag stones, retaining walls, architectural masonry and facing bricks.
AG is committed to supporting the industry-wide adoption of BIM and has BIM objects for its most successful products available for download from its website (www.acheson-glover.com).