Minister opens €6m Doolin Pier
The new €6m Pier at Doolin, Co. Clare, has been officially opened today by Brendan Howlin, T.D., Minister for Public Expenditure & Public Reform.
The new 65-metre pier, the development of which was led by Clare County Council, will serve as a primary access point to and from the Aran Islands for ferry companies operating out of Doolin.
"This important infrastructure project has been long sought after by ferry operators, fishermen and tourists who use the pier. The new pier development will boost visitor numbers in Clare considering access to the Aran Islands from the County has now been greatly enhanced with the completion of this project," said Cllr. John Crowe, Cathaoirleach of Clare County Council.
[rev_slider Surety]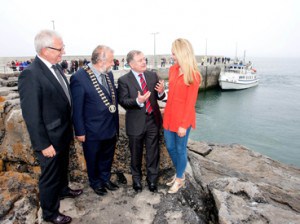 "I want to congratulate the staff of Clare County Council and the consulting engineers on the project, Punch Consultant Engineers and Malachy Walsh & Partners, who have guided the pier project through the various stages of planning and construction. I also want to acknowledge L & M Keating Limited of Kilmihil who completed the construction of the new pier on schedule and within budget," he added.
Tom Coughlan, Chief Executive, Clare County Council commented: "From the outset, the Council has believed this project would have significant, positive economic and social consequences for the people of North Clare and the wider region, including the Doolin Coast Guard, fishermen, tourists and the general public in terms of leisure and amenity use. This belief has been strengthened over the years as a result of the support shown by the local community, the Elected Members and of course, the Government."
Mr. Coughlan said the completion of the new pier complements plans to develop a Visitor Services facility at the location.
"The next step in the development of Doolin Pier will be the planning and construction of ferry terminal visitor facilities, incorporating improvements to parking and ancillary services.  That project is currently being progressed and I look forward to further announcements in the near future," added Mr. Coughlan.