Regeneron Celebrates First Year in Limerick as Construction of Global Biopharmaceuticals Centre of Excellence moves a step forward
Regeneron Pharmaceuticals, Inc., one of the US's biggest and fastest-growing biopharmaceutical companies has just announced that it has hired its 150th employee for its Limerick facility, as it completes its first of a multi-year construction and development programme for the site.
The over $300 million investment in a biopharmaceutical production facility within an 11.88 hectare site at Raheen Business Park, Regeneron's first facility outside the United States, is on track to commence operations in 2016. In addition to the 150 full-time staff in place already, the site is expected to see employment rise to over 300 people including scientists, engineers, technicians and administrative personnel. Already, 1,200 construction personnel have worked on-site over the course of the past year.
[rev_slider ARconferencedublin]
Key milestones in the progress on site to date include:
Over 40 Irish companies involved in the project
Peak personnel working on the project: 1,200
Personnel peak in Raheen during construction in one day: 942 people
1,626,000 accident-free hours of construction on site
60 kilometres of pipe installed and 48,000 tonnes of recycled material reused on site
On Recruitment:
Over 150 full-time staff in place
38 percent of current full-time employees from Limerick
76 percent of current full-time employees from Munster
 36 percent of the full-time employees studied at the University of Limerick or the Limerick Institute of Technology
Speaking at an event on-site in Limerick to mark the first year of development at the facility, Dan Van Plew, Senior Vice President and General Manager of Industrial Operations and Product Supply (IOPS) at Regeneron, said, "Our approved drugs and robust development pipeline have transformed Regeneron into one of the largest and fastest-growing biopharmaceutical companies in the United States. As our second industrial production site, and the first outside the United States, the Raheen Business Park site will play a prominent role in the future of the company."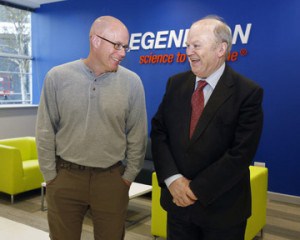 Van Plew continued, "We carefully evaluated a number of locations for our first major international expansion before selecting Limerick, and we have been impressed by the positive, can-do attitude of the local community and IDA Ireland, the expertise provided by NIBRT (National Institute for Bioprocessing Research & Training) and the support we have received at every stage of this process. Thank you for the warmth of your welcome and for making us feel at home here in Limerick."