Ecocem wins big with Next Generation Cement at the prestigious Green Awards
Ecocem Next Generation Cement is manufactured in Dublin. The combination of its superior strength and durability, coupled with the lowest carbon footprint (as much as a 60% reduction) led the impressive panel of domestic and international judges to present the award to Ecocem. Ecocem faced off impressive competition from the likes of Thornton Recycling and Tan Organic.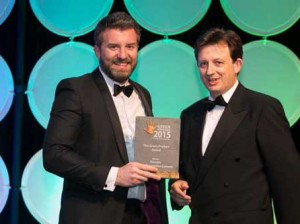 Conor O'Riain, MD of Ecocem Ireland commented: "Sustainability and strong environmental credentials are of the upmost importance when choosing products of any nature. We are delighted to win this award, as it represents a strong independent endorsement of our environmental credentials, allowing users to cut through the greenwashing and make the right choice for the environment, whilst benefiting from an increase in performance"
The Green Awards are in their 5th year and going from strength to strength. This year featured submissions from some of the world's biggest companies including Diageo, Coca Cola and IKEA.
Ecocem Next Generation Cement is available in all good builders merchants, please see www.ecocemcement.ie or call 01 678 1800 for more details.
[rev_slider ARconferencedublin]