750 construction jobs to be created by Center Parcs €200 million holiday village in Longford
One of the UK's leading short break specialists, Center Parcs, has just announced plans to develop a holiday village at Newcastle Wood, five kilometres from Ballymahon, County Longford, and 21 kilometres from junction 9 (Athlone) of the M6 motorway from Dublin to Galway.
The 375 acre site is owned by Coillte currently and Center Parcs have signed an option to buy agreement with the company.
The new Longford Center Parcs, which is expected to open to guests in 2019 (subject to receiving satisfactory planning permission), will create approximately 750 jobs during construction. Once open, the €200 million development will have capacity for up to 2,500 guests and will employ up to 1,000 people in permanent jobs. Many of these roles are expected to be filled by employees between the ages of 18 and 24, and the majority of employees are likely to live locally.
[rev_slider ARconferencedublin]
Center Parcs estimates that, when operational, the new holiday village will add approximately €32 million to Irish GDP per annum.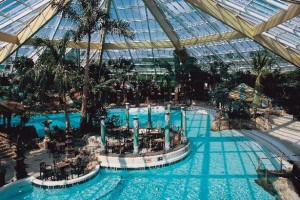 Center Parcs offers high quality short breaks in a secluded and natural woodland setting. The five Center Parcs in the UK are popular with families, with the business consistently exceeding 97% year round occupancy.
The new development will bring together the high quality features for which Center Parcs is renowned, including up to 500 lodges, designed with families and the environment in mind, more than 100 indoor and outdoor activities, a spectacular spa, a range of restaurants and cafés and the iconic Subtropical Swimming Paradise, with water rides and fun for all ages.
Over the last 28 years, Center Parcs has exhibited a proven track record of taking ecologically poor areas of woodland and, through careful forest management, transforming them into areas rich in biodiversity. Each village has a dedicated team of Conservation Rangers who protect and nurture the woodland.
Public consultation and information meetings will take place in Ballymahon for local residents in due course and a planning application to Longford County Council will be prepared.
Martin Dalby, CEO of Center Parcs, said: "We are thrilled and excited about the prospect of bringing the Center Parcs concept to families in Ireland. This new Center Parcs will have all of the ingredients that have made us so popular with families in the UK for the last 28 years and I am certain that Center Parcs will be a great success in Longford. We look forward to liaising closely with the local community during the next few months to fully share our vision and to explain the huge economic and social benefits that a Center Parcs holiday village will bring to the area.
Gerry Murphy, Chairman of Blackstone Group International Partners LLP, said:
"As owners of Center Parcs, Blackstone is delighted to be supporting this exciting project, which adds significantly to our investments in Ireland. We look forward to Center Parcs being built and to it generating substantial employment and economic benefits for the region and country as a whole."
Mark Foley, Managing Director of Coillte Enterprise, said:
"Coillte is delighted to have been able to play its part in facilitating this major inwards investment opportunity through the sale of forest land to Center Parcs. Coillte is particularly pleased that this opportunity will deliver quality jobs in this exciting and sustainable tourism initiative. Tourism has been identified as a key sector for growth in jobs and Coillte, as Ireland's largest provider of outdoor recreation, welcomes this major project."