A star performance by Monami Construction
The engineering and organisational skills of building firm Monami Construction literally went to waste in Cork in 2014, but the client Greenstar, was delighted with professionalism and efficiency used to
 

reconstruct its Glanmire recycling facility.

 

CIAN MOLLOY reports.

When a fire broke out at Greenstar's waste treatment facility in Glanmire in November 2013, such was the destructive intensity of the blaze that more than a dozen fire crews  were required to bring the blaze under control.  Assessing the €10m worth of damage afterwards, it was apparent that the state-of-art facility would have to be rebuilt from scratch and that the work would need to be completed as soon as possible to avoid an even greater financial nightmare for the waste management firm.

"One of the biggest challenges on the project was the restricted programme of just 18 weeks to rebuild the 35,000ft2 facility," said Trevor Cavanagh, Monami's senior quantity surveyor. "Our project management team, led by contracts manager Sean Garvey and site manager Tom O'Donnell, did an excellent job in planning, programming and controlling the project from pre-start to handover. The Greenstar Facility remained live, so reconstruction work had to be segregated from the facility operations to ensure minimal disruption. A lot of time was invested in pre-planning of the various works packages to ensure the optimum efficiency was achieved on site for the duration of the project."

At peak activity, there were in excess of 50 construction operatives working on the site with some 150 construction workers overall being involved in the project, which was completed on budget and without any serious lost time incidents or accidents. Monami operate a safety management system that outlines safe systems of work and identifies workplace and site hazards for all employees. Cavanagh said "Through the Monami Safety Management System, all management and staff are made aware of all duties and procedures to be followed to maintain a safe working environment."
One of the keys to the success of the project was the high level of co-ordination and co-operation between Monami's team and the various project stakeholders, be it the client, the design team or subcontractors. Cavanagh said: "We implemented bi-weekly on site project report meetings to monitor weekly progress and to address any issues arising from site quickly and efficiently, the client and design team of Fehily Timoney Engineers, Bruce Shaw Partnership and Matt O'Mahoney M&E Consultants, were excellent in this regard and it allowed works to continue without disruption on site ensuring all milestone dates on the programme were met. The time spent on the pre-planning and co-ordination of the works culminated in a successful handover on the agreed completion date of November 21st"
The plant's operations manager Louise Demir agrees: "It was a very constrained schedule – there was a target date in November that had to be achieved to allow us to get back in business again.  Everything had to be rebuilt exactly as specified and exactly as had been there previously, because what was there was there for a reason: to comply with regulatory requirements and with licence conditions. Monami performed very well. We never worked with them before, but we will work with them in the future."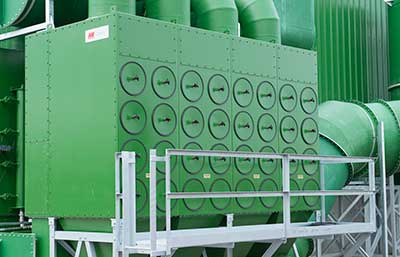 The Greenstar Waste Management Facility works included the demolition of the existing building structures and removal of damaged steel frame; erection of new structural steel frame, erection of new secondary steelwork, installation of a new roof and wall cladding system, installation of new rapid action shutter doors and man entry doors; installation of new in-situ concrete walls and blockwork walls; installation of new modular 'tipping' walls, installation of new mechanical services and electrical services, including a new odour abatement system; and ancillary site works.
The new odour abatement system is designed to eliminate unpleasant smells coming from the site and the installation of the system was carried out by specialist subcontractors SimDean Envirotec. Cavanagh explained: "The waste operations for the building operate in negative pressure and the air from within is circulated through the odour abatement unit. In order for the odour abatement system to run efficiently, a level of air tightness had to be achieved throughout the entire building. Precise installation of cladding systems, smoke ventilators, rapid action doors were required including the sealing of all penetrations by a specialist subcontractor. Prior to handover of the unit, we carried out a successful air/smoke tightness test of the building, achieving the levels required.
"Other notable features of the facility include automatic rapid opening sectional doors that open on vehicle approach, modular steel and precast tipping wall – designed for use with interchangeable components depending on site requirements — and a built in weigh bridge facility to calculate load weights."
Monami Construction Ltd was founded in 2010 by Directors Bryan Quille and Brendan Davey, both of whom have a combined industry experience of over 60 years. Although they established the firm in the midst of the economic downturn, the company has grown steadily, so that it now employs more than 40 project management staff and is continuously recruiting, seeking suitably qualified construction professionals to meet its growing workload demands. As well as project management personnel, the company also directly employs its own tradesmen to provide quality assurance on site. In 2014, the company expects to record a turnover in the region of €12m, with that projected to increase to between €15m and €20m in 2015. Operating across the country, Monami's head office is located in Galway with a regional office in Dublin.
"We are currently working on a number of projects located in Dublin and we also have projects on site in Limerick, Cork, Athlone and Galway, across a wide variety of sectors including retail and commercial, educational, industrial, residential, hotel and leisure and heritage," said Cavanagh.
"We have recently completed a number of large scale projects, most notably the refurbishment of the University of Limerick Schrodinger Building, the Elm Park Penthouses in Dublin 4 and the completion of a large extension to Mary Immaculate College, Limerick. We have just commenced work on a Mixed Use Retail Development in Drimnagh and have other sizeable projects in the pipeline for 2015.
"We operate to an ISO 9001:2008 certified quality management system to ensure the very highest standard of quality service is provided to our clients. Our QMS was first implemented in September of 2013 with full certification received from Certification Europe in May of this year. The QMS system has allowed our management team to increase our efficiency while ensuring that we deliver projects to our clients exact specifications,
"The Greenstar Waste Management Facility is a landmark project for Monami Construction and we are delighted to have been involved in bringing the project to fruition.  Greenstar was an extremely good client to work for. They took a hands-on approach when participating in site meetings and discussions.  In particular, Ivan McCormack and Louise Demir were excellent client representatives. Their professionalism throughout ensured the project ran smoothly and we look forward to working with them again in the future."
For more information on Monami Construction, visit www.monami.ie
 This article first appeared in Issue 1 2015 of Irish Building Magazine.