MJ Flood Technology wins €1.2m infrastructure contract with NUI Galway
MJ Flood Technology today announced a €1.2 million IT infrastructure refresh and associated managed services contract with NUI Galway.
Under the terms of the contract, MJ Flood will perform a full compute, server and storage refresh at NUI Galway's primary data centre with automatic failover to a secondary on-campus facility for resilient redundancy.
The new infrastructure will support teaching, multimedia learning and research for the university's 17,000 students and 2,400 staff.
Based on a combination of HP server and storage technology, the refresh creates a hybrid cloud environment for IT service delivery.  A number of critical applications will be moved to the data centre and HP's next generation 3PAR StoreServ hardware will provide critical, redundant storage capacity for the university's demanding research and enterprise communities.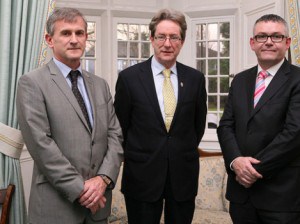 Director of ISS with NUI Galway Sean O'Farrell said: "This project is about bringing IT service delivery to a level which will support the university's ambitions in terms of collaborative teaching, learning and research for the next three to five years, enabling us to exploit cloud integration, leverage our existing data centre capacity and position us for future growth. The investment provides us with a single, unified, managed IT infrastructure with 24x7x365 high availability and pro-active support."
The contract was awarded following a competitive tender process. MJ Flood previously completed of another cloud project for the university, when the company's technical team assisted in the migration of 55,000 student and alumni e-mail accounts from an on-premise system to Microsoft's cloud-based Office 365 e-mail and collaboration platform.
"We are particularly impressed by the strong feature set of HP's next generation server and storage infrastructure and we believe our managed services contract will allow ISS staff to engage in a more strategic way with the various communities on campus," said O'Farrell.